04.10.2016 | Ausgabe 4/2016 Open Access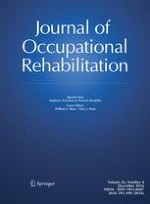 Sustaining Work Participation Across the Life Course
Zeitschrift:
Autoren:

Glenn S. Pransky, Jean-Baptise Fassier, Elyssa Besen, Peter Blanck, Kerstin Ekberg, Michael Feuerstein, Fehmidah Munir, the Hopkinton Conference Working Group on Workplace Disability Prevention
Wichtige Hinweise
The opinions and assertions contained herein are the private views of the authors and are not to be construed as being official or as reflecting the views of the Uniformed Services University of the Health Sciences or the Department of Defense.
Introduction
Methods
The authors participated in an invited 3-day conference, "Improving Research of Employer Practices to Prevent Disability", held October 14–16, 2015, in Hopkinton, Massachusetts, USA. Methods and general proceedings of the conference are described in the introductory article to this special issue [
8
]. The authors of this article represented a sub-group tasked with understanding the state of the science with respect to employer practices for managing the increasing prevalence of chronic health conditions and workplace efforts to prevent this source of disability through job accommodation and support, through a life-course view of employment and disability. We contrast key conceptual and theoretical frameworks, review the applicable scientific literature, assess its impact for employer decision-making, and compare recommendations with that of the employer-directed grey literature. These observations and recommendations are useful for areas that have not been thoroughly investigated. We recommend future research priorities, based on important scientific gaps. Two chronic health conditions with divergent prevalence across the life span—mental disorders [
9
] and cancer [
10
]—were chosen as exemplars to illustrate key principles that may apply across a range of conditions.
Results
Conclusions
There are general principles of effective workplace WDP strategies that are consistent across chronic health conditions, and less information suggesting that there may be condition-specific differences in the most effective strategies. Many chronic conditions are not readily visible, variable in the associated symptoms and impact on work ability, result in stigma upon disclosure, and can lead to discrimination in the workplace, based on a specific diagnosis. At present, these factors limit the ability of employers to effectively accommodate, support, and maintain employment of affected workers. Studies of workers with chronic conditions who are able to maintain employment suggest that work organizational response, self-determined accommodations, work flexibility, and consistent supervisor and manager support are key to their success.
After reviewing the existing scientific literature on WDP, chronic health conditions, and work disability across the working life course, we have found remarkably little research to guide WDP practice. We did not address young workers with health conditions in depth, other chronic conditions (e.g., cardiovascular, infectious, metabolic, neurologic, and cognitive conditions), as we wanted to provide a few examples that would illustrate both differences and similarities. Although there may be important unique features for a particular condition that relate to WDP interventions (e.g., types of symptoms and specific functional limitations), our overall conclusion is that the basic principles of effective workplace-based WDP are most important.
Although the scientific and grey literatures tend to focus on personal determinants and diagnoses, and easily-implemented accommodations, there is ample evidence for the importance of organizational factors across many of these special situations. More broad recognition of the importance of work organizational responses, as opposed to greater clinical focus, is needed to better address WD prevention. Work organizational factors are occasionally emphasized in the grey literature, but are poorly represented in research; given their importance in solving WD problems, this is a priority for these special populations. For example, in what ways do specific organizational issues present a unique challenge for workers with a particular condition (such as cancer), and how can this be overcome? And, how do new work organizational structures, such as temporary, lone work and virtual work present unique challenges or opportunities for WDP for specific conditions or stages of the working life-course? Studies on supervisor response, informal and effective accommodations, and how best to address variable conditions and resulting fluctuations in work ability appear to be a priority. For the small employer, a challenge is finding and providing problem-solving resources that can be appropriately specific to a particular condition and work arrangement, for a relatively rare occurrence (work disability).
As more workers with chronic illness seek sustained employment, there is the potential for employers to face more demands for accommodations, costs related to maintaining employment of these workers, more challenges in figuring out who can work and when, and perhaps less predictability about who can stay employed in the long –term. These trends will lead to broader changes as some organizations will find ways to accommodate a broader range of different challenges. Employers who are able to meet these challenges will have access to a greater range of workers and talent, and may reap benefits in terms of affinity and loyalty.
Acknowledgments
The conference that led to this article was supported by the Liberty Mutual Research Institute for Safety. The Hopkinton Conference Working Group on Workplace Disability Prevention includes Benjamin C. Amick III, Johannes R. Anema, Elyssa Besen, Peter Blanck, Cécile R. L. Boot, Ute Bültmann, Chetwyn C. H. Chan, George L. Delclos, Kerstin Ekberg, Mark G. Ehrhart, Jean-Baptiste Fassier, Michael Feuerstein, David Gimeno, Vicki L. Kristman, Steven J. Linton, Chris J. Main, Fehmidah Munir, Michael K. Nicholas, Glenn Pransky, William S. Shaw, Michael J. Sullivan, Lois E. Tetrick, Torill H. Tveito, Eira Viikari-Juntura, Kelly Williams-Whitt, and Amanda E. Young.
Compliance with Ethical Standards
Conflict of interest
Glenn Pransky, Elyssa Besen, Peter Blanck, Kirsten Ekberg, Jean-Baptise Fassier, Michael Feuerstein, and Fehmidah Munir declare that they have no conflict of interest.
Ethical approval
This article does not contain any studies with human participants or animals performed by any of the authors.
Open Access
This article is distributed under the terms of the Creative Commons Attribution 4.0 International License (
http://​creativecommons.​org/​licenses/​by/​4.​0/​
), which permits unrestricted use, distribution, and reproduction in any medium, provided you give appropriate credit to the original author(s) and the source, provide a link to the Creative Commons license, and indicate if changes were made.