12.01.2016 | Original Article | Ausgabe 11/2016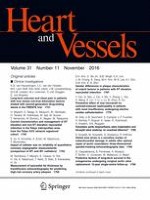 Sutureless aortic bioprosthesis valve implantation and bicuspid valve anatomy: an unsolved dilemma?
Zeitschrift:
Autoren:

Marco Vola, Jean-Baptiste Guichard, Salvatore Campisi, Jean-François Fuzellier, Antoine Gerbay, Fabien Doguet, Karl Isaaz, Kasra Azarnoush, Amedeo Anselmi, Vito Giovani Ruggieri
Abstract
Interest is growing in the clinical use of sutureless (SU) valves. However, indications in some anatomical sub-settings, like bicuspid aortic valves (BAV), have been so far limited. We discuss herein our initial experience with the implantation of the 3f Enable SU bioprosthesis in patients with a BAV. Patients with a BAV were selected in our unit between March 2011 and September 2014 for a SU 3f Enable valve implantation. Twenty of the 198 patients who underwent a 3f Enable valve implantation in our unit had a BAV. Procedural success was 100 %, but reclamping was necessary in one (5 %) case. Median size of implanted bioprosthesis was 23 mm. After a mean follow-up of 13.8 ± 10.7 months, survival was 100 %. Two patients (10 %) showed an immediate grade 1 paravalvular leak (PVL) that progressed to grade 2 and 3+ (moderate/severe), respectively, during follow-up. Type of bicuspidy (Sievers classification) in these two patients was 0 and intraoperatively aortic annuli admitted the 25 mm calibrator. Among the 18 patients without PVL, no one had a type 0 large BAV. At 1 year, implantation of the 3f Enable SU bioprosthesis appears to be safe in patients with BAV type I and II, while in type 0 use of the SU valve seems to be safe only if the annular diameter is <25 mm. Larger studies are necessary to confirm our findings in order to clarify the indications for SU technology in the subset of bicuspid patients.