01.12.2017 | Research | Ausgabe 1/2017 Open Access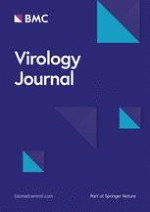 SVR Rates of HCV-infected population under PEG-IFN-α/R treatment in Northwest China
Zeitschrift:
Autoren:

Yanhua Li, Jiuping Wang, Juan Wang, Yunfeng Xiao, Bin Xu, Hongwei Li, Liu Yang, Xiaoke Hao, Yueyun Ma
Abstract
Background
Chronic HCV Patients taking PEG-IFN-α/R from different ethnic groups have different probabilities of reaching a sustained viral response (SVR). There are many influence factors, such as HCV genotype, IL-28B single-nucleotide polymorphisms (SNP), Fibrosis 4 index (FIB-4), and aspartate aminotransferase-to-platelet ratio index (APRI) score. But the baseline factors in relation to treatment outcome was still not much clear.
Methods
We evaluated data from 231 chronic HCV patients with or without liver fibrosis and their antiviral efficacy after treatment with pegylated interferon plus ribavirin (PEG-IFN-α/R) for 24–48 weeks. IL-28B SNP and HCV genotypes were analyzed with genome sequencing using pyrosequencing.
Results
Sustained viral response (SVR) rates of patients with HCV 1b and 2a genotypes were 52.25% (58/111) and 75.28% (67/89) (P < 0.01). SVR rates of patients with IL-28B rs8099917 TT, rs12979860 CC and rs12980275 AA were 92.41% (25/27), 92.86% (26/28) and 88.89% (24/27) separately. We found that SVR rates in HCV 1b and 2a patients were only 31.0 and 39.4% if their FIB-4 > 3.25. In addition, when their APRI > 2, only 30.3% of HCV 1b patients and 50.2% of HCV 2a patients could obtain SVR.
Conclusions
There were high proportion of HCV genotype 1b and 2a in Northwest China. In both HCV 1b and 2a genotypes, patients with protective-genotype of IL-28B were more likely to obtain SVR. However, those with significant fibrosis or cirrhosis were less likely, no matter their genotype. Combined factors of HCV genotype, IL-28B genotype, FIB-4 and ARPI may indicate high prediction and clinical value regarding treatment with PEG-IFN-α/R and prognostic evaluation of chronic hepatitis C patients.