23.06.2020 | Original Article | Ausgabe 12/2020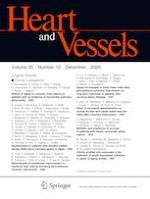 Switching from Warfarin to rivaroxaban induces sufficiency of vitamin K and reduction of arterial stiffness in patients with atrial fibrillation
Zeitschrift:
Autoren:

Yuji Ikari, Fumie Saito, Takahiko Kiyooka, Masakazu Nagaoka, Manabu Kimura, Takayuki Furuki, Shigemitsu Tanaka
Wichtige Hinweise
The original version of this article is revised due to one of the co-author name was published incorrectly as "Takamoto Furuki" and corrected in this version as "Takayuki Furuki".
Publisher's Note
Springer Nature remains neutral with regard to jurisdictional claims in published maps and institutional affiliations.
Abstract
Use of chronic vitamin K antagonist (VKA) induces a long-term deficiency of vitamin K, which may cause arterial stiffness and bone-related disease. Switching from VKA to rivaroxaban could induce rapid sufficiency of vitamin K and improvement of arterial stiffness. The K2 SUMMIT-3 study is a multicenter, open-label, prospective, and randomized design. Patients with atrial fibrillation who have been taking VKA for more than 6 months but less than 10 years were randomly assigned to two groups; those switching from VKA to rivaroxaban and those continuing with VKA medication. The primary endpoint was the percentage difference of brachial-ankle pulse wave velocity (baPWV) in 3 months. A total of 77 patients were randomly assigned to receive rivaroxaban (
n
 = 38) or VKA (
n
 = 39). The average age was 74 ± 9 years. The duration for which VKA was prescribed prior to randomization was 90 ± 87 months.
Abnormally high levels of Des-gamma carboxyprothrombin (PIVKA-II) or uncarboxylated osteocalcin (ucOC) indicating vitamin K insufficiency were observed in 100% or 82% of the patients at baseline but it reduced to 2% (
p
 < 0.0001) or 55% (
p
 = 0.01) at 3 months in the rivaroxaban group. To the contrary, theses data had no changes in the VKA group. The percentage difference in baPWV was − 1.4 ± 10.0% vs. 3.5 ± 14.7% in the rivaroxaban and the VKA groups, respectively. (
p
 = 0.02). Switching from VKA to rivaroxaban resulted in rapid sufficiency of vitamin K and reduction of arterial stiffness in 3 months.