09.09.2020 | Original Article | Ausgabe 2/2021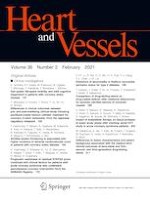 Symptom burden and treatment perception in patients with atrial fibrillation, with and without a family history of atrial fibrillation
Zeitschrift:
Autoren:

Taishi Fujisawa, Takehiro Kimura, Shun Kohsaka, Nobuhiro Ikemura, Yoshinori Katsumata, Hiroshi Miyama, Kazuaki Nakajima, Takahiko Nishiyama, Yoshiyasu Aizawa, Hideaki Kanki, Keiichi Nagami, Keiichi Fukuda, Seiji Takatsuki
Wichtige Hinweise
Publisher's Note
Springer Nature remains neutral with regard to jurisdictional claims in published maps and institutional affiliations.
Abstract
Atrial fibrillation (AF) is known to aggregate within family and might be associated with a lower quality-of-life (QoL). We evaluated the association between a family history (FHx) of AF and patient-reported symptom burden and perception towards treatment. We performed a retrospective analysis in a cohort of 1285 newly diagnosed patients with AF. Patients completed the atrial fibrillation effect on quality of life (AFEQT) questionnaire at the time of registration and at the 1-year follow-up. Patients who had a first-degree relative with AF were classified into the FHx group. Baseline characteristics and AFEQT scores were compared between groups, and a multivariate analysis was used to evaluate the independent association between FHx and QoL. Overall, 15.9% of patients (
n
 = 204) had a positive AF FHx. Compared to the non-FHx group, the FHx group had an earlier onset of AF (60.2 ± 12.0 years vs. 64.5 ± 12.1 years;
P
 < 0.05) and lower AFEQT overall summary (AFEQT-OS) score at baseline (73.9 ± 17.8 vs. 77.0 ± 16.8;
P
 < 0.05). After adjustment for clinical background, a positive FHx was independently associated with a worse QoL (changes in AFEQT-OS score = − 3.18; 95% confidence interval: − 5.67 to − 0.69;
P
 = 0.012). No between-group difference in AFEQT-OS scores was noted at the 1-year follow-up. An FHx of AF was associated with a lower QoL, which could be improved by therapeutic intervention in patients with AF. Recognizing the presence of an FHx of AF is important to predict patient's symptom load and treatment acceptance.