03.01.2019 | Preclinical study | Ausgabe 3/2019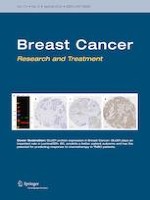 Synergistic anti-cancer activity of CDK4/6 inhibitor palbociclib and dual mTOR kinase inhibitor MLN0128 in pRb-expressing ER-negative breast cancer
Zeitschrift:
Autoren:

Takuro Yamamoto, Noriko Kanaya, George Somlo, Shiuan Chen
Wichtige Hinweise
Electronic supplementary material
Abstract
Purpose
Palbociclib is an approved cyclin-dependent kinase (CDK) 4/6 inhibitor for treatment of patients with ER-positive and HER2-negative breast cancers. While Retinoblastoma protein (pRb), a major substrate of CDK4/6, is a potential target in triple negative breast cancer (TNBC), the usefulness of CDK4/6 inhibitors in this cancer has not been established. This preclinical study investigated the combination effects of palbociclib and the dual mammalian target of rapamycin (mTOR) kinase inhibitor MLN0128 in estrogen receptor (ER)-negative breast cancer in vitro and in vivo.
Methods
The combined effects of two drugs on three TNBC cell lines (MB231, MB468, and CAL148) and an ER-negative and HER2-positive cell line (MB453) were investigated by MTT assay and colony formation analysis. Cell cycle measurements were examined as well as changes in expression of molecules related to G1/S transition and the mTOR pathway. Importantly, a pRb-expressing TNBC patient-derived xenograft (PDX) model was used to assess the effects of the combination in vivo.
Results
A combination of palbociclib and MLN0128 synergistically inhibited the proliferation of pRb-expressing cell lines and induced G1 cell cycle arrest. Western blot analysis revealed that CDK4/6-pRb and mTOR pathways were inhibited by these treatments. In pRb-expressing TNBC PDX, the combination treatment drastically suppressed tumor growth compared to either the control or single drug treatments. In addition, the combination treatment significantly reduced the number of Ki67-positive cells.
Conclusions
We revealed that palbociclib and MLN0128 had synergistic anti-cancer activity in both pRb + ER-negative cell lines and a TNBC PDX model. Our results indicate that such combination therapy is worthy of further investigation in a clinical setting.