14.07.2020 | Original Article―Liver, Pancreas, and Biliary Tract | Ausgabe 11/2020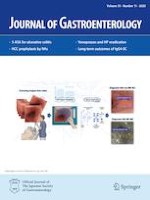 Synergistic anti-tumor activity of miriplatin and radiation through PUMA-mediated apoptosis in hepatocellular carcinoma
Zeitschrift:
Autoren:

Hironori Tanaka, Koichi Okamoto, Yasushi Sato, Takahiro Tanaka, Tetsu Tomonari, Fumika Nakamura, Yasuteru Fujino, Yasuhiro Mitsui, Hiroshi Miyamoto, Naoki Muguruma, Akinori Morita, Hitoshi Ikushima, Tetsuji Takayama
Wichtige Hinweise
Electronic supplementary material
Publisher's Note
Springer Nature remains neutral with regard to jurisdictional claims in published maps and institutional affiliations.
Abstract
Background
The prognosis for patients with unresectable advanced hepatocellular carcinoma (HCC) is poor. Miriplatin is a hydrophobic platinum compound that has a long retention time in lesions after transarterial chemoembolization (TACE). We investigated anti-tumor activity of miriplatin combined with irradiation on HCC cells, and its underlying mechanism of apoptosis. We also analyzed the effectiveness of miriplatin-TACE and radiotherapy for locally advanced HCC.
Methods
Human HCC cell lines HepG2 and HuH-7 were treated with DPC (active form of miriplatin) and radiation, and synergy was evaluated using a combination index (CI). Apoptosis-related proteins and cell cycles were analyzed by western blotting and flowcytometry. We retrospectively analyzed treatment outcomes in 10 unresectable HCC patients with vascular/bile duct invasion treated with miriplatin-TACE and radiotherapy.
Results
DPC or X-ray irradiation decreased cell viability dose-dependently. DPC plus irradiation decreased cell viability synergistically in both cell lines (CI < 1, respectively). Cleaved PARP expression was induced much more strongly by DPC plus irradiation than by each treatment alone. Expression of p53 up-regulated modulator of apoptosis (PUMA) was significantly induced by the combination, and knockdown of PUMA with siRNA significantly decreased apoptosis in both cell lines. DPC plus irradiation caused sub-G1, G2/M, and S phase cell arrest in those cells. The combination of miriplatin-TACE and radiotherapy showed a high response rate for patients with locally advanced HCC despite small number of patients.
Conclusions
Miriplatin plus irradiation had synergistic anti-tumor activity on HCC cells through PUMA-mediated apoptosis and cell cycle arrest. This combination may possibly be effective in treating locally advanced HCC.