01.11.2020 | Original Paper | Ausgabe 11/2020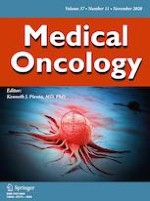 Synergistic effects of multiple myeloma cells and tumor-associated macrophages on vascular endothelial cells in vitro
Zeitschrift:
Autoren:

Miaomiao Sun, Sen Qiu, Qiankun Xiao, Tong Wang, Xiangyu Tian, Chao Chen, Xiaohui Wang, Junya Han, Haina Zheng, Yuwei Shou, Kuisheng Chen
Wichtige Hinweise
Miaomiao Sun, Sen Qiu: Co first authors.
Publisher's Note
Springer Nature remains neutral with regard to jurisdictional claims in published maps and institutional affiliations.
Abstract
Angiogenesis is a prerequisite for multiple myeloma development. Tumor cells can stimulate angiogenesis by secreting vascular endothelial growth factor A (VEGFA), but we previously reported that tumor angiogenesis was not significantly reduced when VEGFA expression was inhibited in myeloma cells. Tumor-associated macrophages (TAMs) are important components of the tumor microenvironment and have been reported to be involved in the regulation of angiogenesis. In this study, we performed in vitro macrophage coculture studies and studies with RPMI 8226 and TAMs cell-conditioned media to explore their effects on the proliferation, migration, and tube formation of human umbilical vein endothelial cells (HUVECs). Our results showed that M2 macrophages and RPMI 8226 cells could synergistically promote HUVEC proliferation, migration, and tube formation, and that VEGFA depletion in both cell types suppressed HUVEC tube formation ability. Conversely, M1 macrophages inhibited the tube formation in HUVECs. Mechanistically, M2 macrophage secretion of VEGFA may affect vascular endothelial growth factor receptor 1 signaling to regulate angiogenesis. In summary, our results suggest that macrophage clearance or inducing of transformation of M2 macrophages into M1 macrophages are potential treatment strategies for multiple myeloma.