01.12.2018 | Research article | Ausgabe 1/2018 Open Access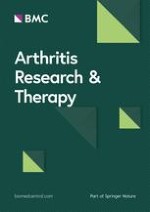 Synovial IL-9 facilitates neutrophil survival, function and differentiation of Th17 cells in rheumatoid arthritis
Zeitschrift:
Autoren:

Kaustav Chowdhury, Uma Kumar, Soumabha Das, Jaydeep Chaudhuri, Prabin Kumar, Maumita Kanjilal, Parashar Ghosh, Geetabali Sircar, Ravi Kiran Basyal, Uma Kanga, Santu Bandyopadhaya, Dipendra Kumar Mitra
Wichtige Hinweise
Electronic supplementary material
Abstract
Background
Role of Th9 cells and interleukin-9 (IL-9) in human autoimmune diseases such as psoriasis and ulcerative colitis has been explored only very recently. However, their involvement in human rheumatoid arthritis (RA) is not conclusive. Pathogenesis of RA is complex and involves various T cell subsets and neutrophils. Here, we aimed at understanding the impact of IL-9 on infiltrating immune cells and their eventual role in synovial inflammation in RA.
Methods
In vitro stimulation of T cells was performed by engagement of anti-CD3 and anti-CD28 monoclonal antibodies. Flow cytometry was employed for measuring intracellular cytokine, RORγt in T cells, evaluating apoptosis of neutrophils. ELISA was used for measuring soluble cytokine, Western blot analysis and confocal microscopy were used for STAT3 phosphorylation and nuclear translocation.
Results
We demonstrated synovial enrichment of Th9 cells and their positive correlation with disease activity (DAS28-ESR) in RA. Synovial IL-9 prolonged the survival of neutrophils, increased their matrix metalloprotienase-9 production and facilitated Th17 cell differentiation evidenced by induction of transcription factor RORγt and STAT3 phosphorylation. IL-9 also augmented the function of IFN-γ + and TNF-α + synovial T cells.
Conclusions
We provide evidences for critical role of IL-9 in disease pathogenesis and propose that targeting IL-9 may be an effective strategy to ameliorate synovial inflammation in RA. Inhibiting IL-9 may have wider impact on the production of pathogenic cytokines involved in autoimmune diseases including RA and may offer better control over the disease.