01.12.2017 | Research article | Ausgabe 1/2017 Open Access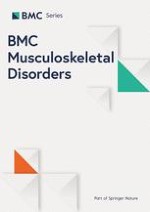 Synovial inflammation plays a greater role in post-traumatic osteoarthritis compared to idiopathic osteoarthritis in the Hartley guinea pig knee
Zeitschrift:
Autoren:

Nathan P. Thomas, Wesley J. Wu, Braden C. Fleming, Fangyuan Wei, Qian Chen, Lei Wei
Abstract
Background
The objective of this study was to evaluate the extent of stromal cell-derived factor-1's (SDF-1) involvement in the pathogenesis of idiopathic versus post-traumatic OA by comparing differences in synovial membrane morphology, SDF-1 synovial fluid (SF) concentrations, and matrix metalloproteinase-13 (MMP-13) SF concentrations.
Methods
Thirty-six 3-month-old Hartley guinea pigs were obtained and divided into 6 groups. Upon sacrifice, India Ink staining was used to evaluate gross morphology, Safranin O/Fast green staining was used to assess cartilage damage, H/E staining was employed to visualize the synovium, and SF samples were obtained for biochemical analyses. Sandwich ELISA was used to quantify the SF concentrations of SDF-1 and MMP-13.
Results
12 month-old, idiopathic OA guinea pigs and 5.5 month-old ACLT animals had comparable cartilage damage when evaluated by the Modified Mankin Score. SDF-1 and MMP-13 concentrations were not statistically different between the two groups. The synovial membrane of the 5.5 month ACLT group had severe synovitis compared to the idiopathic OA group.
Conclusion
In this study, it was found that synovial inflammation, independent of cartilage morphology, SDF-1 concentration, and MMP-13 concentration, was markedly different between idiopathic and post-traumatic OA. These results highlight the differing morphological and biochemical profiles of post-traumatic versus idiopathic osteoarthritis and calls for a more thorough examination of the sole of the synovial membrane in the pathogenesis of post-traumatic osteoarthritis.