01.12.2014 | Research Article | Ausgabe 6/2014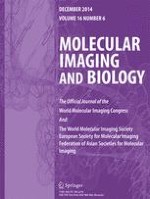 Syntheses and Radiosyntheses of Two Carbon-11 Labeled Potent and Selective Radioligands for Imaging Vesicular Acetylcholine Transporter
Zeitschrift:
Autoren:

Prashanth K. Padakanti, Xiang Zhang, Junfeng Li, Stanley M. Parsons, Joel S. Perlmutter, Zhude Tu
Abstract
Purpose
The vesicular acetylcholine transporter (VAChT) is a specific biomarker for imaging presynaptic cholinergic neurons. The syntheses and C-11 labeling of two potent enantiopure VAChT inhibitors are reported here.
Procedures
Two VAChT inhibitors, (±)-
2
and (±)-
6
, were successfully synthesized. A chiral HPLC column was used to resolve the enantiomers from each corresponding racemic mixture for
in vitro
characterization. The radiosyntheses of (−)-[
11
C]
2
and (−)-[
11
C]
6
from the corresponding desmethyl phenol precursor was accomplished using [
11
C]methyl iodide or [
11
C]methyl triflate, respectively.
Results
The synthesis of (−)-[
11
C]
2
was accomplished with 40–50 % radiochemical yield (decay-corrected), SA > 480 GBq/μmol (EOB), and radiochemical purity >99 %. Synthesis of (−)-[
11
C]
6
was accomplished with 5–10 % yield, SA > 140 GBq/μmol (EOB), and radiochemical purity >97 %. The radiosynthesis and dose formulation of each tracer was completed in 55–60 min.
Conclusions
Two potent enantiopure VAChT ligands were synthesized and 11C-labeled with good radiochemical yield and specific activity.