17.04.2020 | Review | Ausgabe 7/2020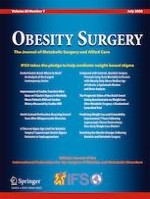 Systematic Review and Meta-Analysis of Endoscopic Sleeve Gastroplasty with Comparison to Laparoscopic Sleeve Gastrectomy
Zeitschrift:
Autoren:

Md Asif Jalal, Qiuye Cheng, Michael B. Edye
Wichtige Hinweise
Publisher's Note
Springer Nature remains neutral with regard to jurisdictional claims in published maps and institutional affiliations.
Abstract
Purpose
Endoscopic sleeve gastroplasty (ESG) has grown in popularity as a potential minimally invasive bariatric procedure with acceptable short- and medium-term outcomes. This review aims to assess the safety and weight loss outcomes of ESG and compare it with laparoscopic sleeve gastrectomy (LSG).
Material and Methods
A comprehensive search of MEDLINE, EMBASE, Cochrane and World Wide Web was conducted.
Results
Five studies were reviewed, three ESG cohort studies and two case-matched cohort studies comparing ESG with LSG. Total unique ESG and LSG patients were 1451 and 203, respectively. All papers demonstrated a modest short-term total body weight loss (TBWL%) at 6 months ranging from 13.7 to 15.2% for ESG. Comparably, the two LSG papers demonstrated a superior TBWL% of 23.5 and 23.6% at 6 months, with one paper reporting a 12-month TBWL% of 29.3%. Two ESG papers reported medium-term results at 18 and 24 months of 14.8% and 18.6%, respectively. Excluding Clavien-Dindo 1 complications, ESG had a complication rate between 2.0 and 2.7%, while comparatively, LSG had a complication rate between 9.2 and 16.9% (current literature reported as 8.7%). In both procedures, there were no grade IV or V complications.
Conclusion
ESG when compared with LSG has lower short-term weight loss outcomes with fewer complications. Weight loss results for ESG appear to plateau after the 1-year mark. The future and uptake of ESG as a minimally invasive bariatric procedure will be determined by its long-term data on potential weight loss sustainability.