01.12.2017 | Research article | Ausgabe 1/2017 Open Access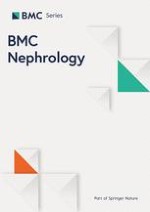 Systematic review of nephrotoxicity of drugs of abuse, 2005–2016
Zeitschrift:
Autoren:

Kanaan Mansoor, Murad Kheetan, Saba Shahnawaz, Anna P. Shapiro, Eva Patton-Tackett, Larry Dial, Gary Rankin, Prasanna Santhanam, Antonios H. Tzamaloukas, Tibor Nadasdy, Joseph I. Shapiro, Zeid J. Khitan
Abstract
Background
The United States is faced with an unprecedented epidemic of drug abuse. Every year thousands of Americans visit the emergency departments all over the country with illicit drug related complaints. These drugs have been known to be associated with a range of renal pathologies, from reversible acute kidney injuries to debilitating irreversible conditions like renal infarction. So far, no comprehensive study or systematic review has been published that includes the commonly used street drugs and designer drugs with potential nephrotoxic outcomes.
Methods
We conducted a systematic review of published case reports, case series, and cross sectional studies of nephrotoxicities related to drugs of abuse. Literature review was conducted using PubMed/Medline from January 1, 2005 -December 31, 2016 to search for publications related to drug abuse with a defined renal outcome. Publications which reported renal injury in relation to the use of illicit drugs were selected, specifically those cases with raised creatinine levels, clinically symptomatic patients, for instance those with oliguria and proven renal biopsies.
Results
A total of 4798 publications were reviewed during the search process and PRISMA flow chart and Moose protocol regarding systematic reviews were followed. 110 articles were shortlisted for the review. A total of 169 cases from case reports and case series, and 14 case studies were analyzed. Renal manifestations of specific illicit drug abuse were included in this review.
Conclusion
Based on the evidence presented, a wide range of renal manifestations were found to be associated with drug abuse. If the trend of increasing use of illicit drug use continues, it will put a significant percentage of the population at an elevated risk for poor renal outcomes. This study is limited by the nature of the literature reviewed being primarily case reports and case series.