20.07.2020 | Review Article | Ausgabe 12/2020 Open Access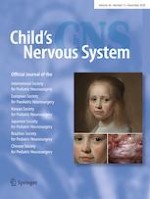 Systematic review of pineal cysts surgery in pediatric patients
Zeitschrift:
Autoren:

Joham Choque-Velasquez, Roberto Colasanti, Szymon Baluszek, Julio Resendiz-Nieves, Sajjad Muhammad, Christopher Ludtka, Juha Hernesniemi
Wichtige Hinweise
Electronic supplementary material
Publisher's note
Springer Nature remains neutral with regard to jurisdictional claims in published maps and institutional affiliations.
Introduction
The prevalence of benign pineal cysts (PCs) ranges between 0.6 and 23% in the general population [
1
–
7
], and is as high as 40% in autoptic series [
8
]. This large range in reported prevalence is explained by the different types of MRI machine used for the respective studies, the different methods used in defining PC size, and the various types of design and population studies [
1
–
7
,
9
]. One large study on children and young people in particular showed a PC prevalence of 2% in people under 25 years of age [
2
]. PCs in the general population are mostly considered normal anatomical variations and the parameters to define pathological PCs in need of treatment are currently unestablished [
10
–
21
].
Pediatric patients harbor different physiological, anesthesiological, and neurosurgical features as compared to adult patients. As such, surgically treated pediatric PCs may represent a different and unique entity in clinical practice, which has not previously been properly investigated. Only a few large series on surgically treated PCs have been published in recent years [
10
–
22
], and no clinical study on surgically treated PCs in pediatric patients has been reported thus far. In 2013, a review on surgically treated PCs in children was performed. However, the study included only 30 patients collected from small case series [
23
].
Details on the natural history, clinical features, and surgical outcomes of pediatric pineal cysts are unknown. We present a consecutive case series and a systematic review of surgically treated pediatric PCs. We hypothesized that the symptomatic PC is a progressive disease with hydrocephalus at its final stage. We also propose that PC microsurgery is associated with better postoperative outcomes compared to other treatments in pediatric patients.
Material and methods
Results
Discussion
In regard to the natural evolution of the disease, the aforementioned findings are similar to those we reported previously in the largest series of surgically treated pineal cysts [
22
]. Thus, we propose that surgically treated PCs represent a progressive disease with acute or progressive hydrocephalus at its final stage. Furthermore, we suggest that young females with active sexual hormone status (> 10-year-old) would be the pediatric group at highest risk for disease progression, and recommend that further research should focus on this matter. In regard to the possibility of PCs in female patients increasing in size, hormonal implications could play an important role in the natural history of this disease, as suggested by previous publications [
36
,
64
].
Contrary to our findings, a large epidemiological study on people under 25 years old conducted by Al-Holou et al. concluded that the prevalence of pineal cysts that increase in size during the follow-up was very low. Most of the PCs remained stable or decreased in size along a mean follow-up of 3.4 years. However, that study was designed to evaluate PCs of 5 mm or larger, with average PC diameters of 9.7 ± 3.8 mm at initial diagnosis [
3
]. A comprehensive analysis of these findings may conclude that most small PCs remain stable during the follow-up period. However, PCs with diameters larger than 15 mm might represent a pathological entity and require treatment. Further studies on different age groups should be performed to draw appropriate conclusions.
In regard to the surgical procedures and their postoperative outcomes, some information was obtained despite being limited by the unavailability of clinical studies on surgically treated PCs. Individual data analysis offers limited usefulness regarding statistical analysis, as the selection bias of the patients is undefined. Regardless, some of the very consistent conclusions regarding patient outcome include (a) 96% of pediatric patients improved their symptoms or became asymptomatic after the surgical treatment of their PCs and (b) PC microneurosurgery was associated with a better extent of resection yet with similar postoperative clinical status compared to other surgical procedures.
The endoscopic procedures demonstrated symptom-free status in all patients at their last evaluation, although an accurate analysis of the data showed that all the cases followed a careful preoperative selection. Indications for endoscopic procedures were restricted to patients with symptoms related to hydrocephalus or visual disturbances, and no patient with unspecific symptoms was included in this group of treatment. The patient who underwent third ventriculostomy alone showed a progressive reduction of the PC over the 36 months of follow-up. Of the six patients who underwent stereotactic procedures, four became asymptomatic, one patient died, and one patient with psychomotor retardation remained unchanged. Moreover, a PC recurred at 71 months, presenting with a larger size and associated hydrocephalus, and required re-aspiration [
55
]. These results suggest a reduced safety and effectiveness of the stereotactic procedure for the management of pediatric PCs. In the microsurgical group of treatment, only three of the 10 patients who underwent an occipital transtentorial approach were asymptomatic at the last evaluation. Moreover, four patients did not recover the ability to converge their eyes 2 years after surgery. In comparison, 60 of the 70 patients who underwent the SCIT approach were asymptomatic, and nine additional patients showed an improvement of most of their symptoms at the last evaluation. One of them did not show improvement of the preoperative Parinaud's syndrome. Another patient with a psychomotor retardation operated in 1987 had an unchanged outcome [
60
]. New deficits such as memory, concentration, and sleep disorders were also reported in three patients.
The systematic review performed strongly supports our previous findings on the progressive character of surgically treated PCs. The current surgical management of pediatric PCs seems safe. However, residual PCs are frequent after endoscopic or stereotactic procedures in contrast to the minor rate of remnants after microneurosurgery, particularly following the SCIT approach. Failure to achieve clinical improvement of surgically treated PC patients should be avoided by proper surgical selection of patients, focusing on the disease-related clinical presentation. As previously mentioned, the main limitation of this systematic review is the data being retrieved from small series of cases that did not allow us to draw solid conclusions.
Conclusion
Surgically treated pediatric PCs appear to be a progressive disease, which starts with unspecific symptoms with mean cyst diameters of 15 mm, and progresses with visual impairment and hydrocephalus at the final stage. PC microneurosurgery seems to be associated with a better extent of surgical resection compared to endoscopic and stereotactic procedures. Failure to achieve clinical improvement of surgically treated PC patients should be avoided by proper surgical selection of patients. Further research is required on this topic.
Acknowledgments
We deeply thank Behnam Rezai Jahromi and Danil A. Kozyrev who contributed on the data collection for the manuscript.
Availability of data and material
Data is available as a supplementary material for this manuscript.
Compliance with ethical standards
Conflict of interest
Prof. Juha Hernesniemi is an Aesculap counselor. The authors have no personal financial or institutional interest in any of the drugs, materials, and devices described in this article.
Ethics approval
Not applicable.
Consent to participate
Not applicable.
Consent for publication
Not applicable.
Open Access
This article is licensed under a Creative Commons Attribution 4.0 International License, which permits use, sharing, adaptation, distribution and reproduction in any medium or format, as long as you give appropriate credit to the original author(s) and the source, provide a link to the Creative Commons licence, and indicate if changes were made. The images or other third party material in this article are included in the article's Creative Commons licence, unless indicated otherwise in a credit line to the material. If material is not included in the article's Creative Commons licence and your intended use is not permitted by statutory regulation or exceeds the permitted use, you will need to obtain permission directly from the copyright holder. To view a copy of this licence, visit
http://​creativecommons.​org/​licenses/​by/​4.​0/​
.
Publisher's note
Springer Nature remains neutral with regard to jurisdictional claims in published maps and institutional affiliations.