27.04.2019 | Original Article | Ausgabe 6/2019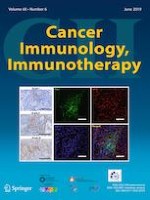 Systemic and local immunosuppression in patients with high-grade meningiomas
Zeitschrift:
Autoren:

Yuping D. Li, Dorina Veliceasa, Jason B. Lamano, Jonathan B. Lamano, Gurvinder Kaur, Dauren Biyashev, Craig M. Horbinski, Tim J. Kruser, Orin Bloch
Wichtige Hinweise
Electronic supplementary material
This work was previously published as an abstract at the 2018 American Association of Neurological Surgeons (AANS) Annual Scientific Meeting in New Orleans, LA, USA on April 29–May 2, 2018 [
1
].
Publisher's Note
Springer Nature remains neutral with regard to jurisdictional claims in published maps and institutional affiliations.
Abstract
Aim
Despite current treatments, high-grade meningiomas continue to have a poor prognosis. Immunotherapy targeting immune checkpoints, such as PD-L1, has demonstrated significant success in controlling numerous malignancies. In this study, we investigate the extent of systemic and local immunosuppression in meningiomas to assess the potential benefit of immune checkpoint inhibitors for the treatment of high-grade meningiomas.
Methods
Peripheral blood was collected from patients undergoing resection of meningiomas (WHO grade I,
n
 = 18; grade II,
n
 = 25; grade III,
n
 = 10). Immunosuppressive myeloid cells (CD45
+
CD11b
+
PD-L1
+
), myeloid-derived suppressor cells (MDSCs) (CD11b
+
CD33
+
HLA-DR
low
), and regulatory T cells (Tregs) (CD3
+
CD4
+
CD25
+
FoxP3
+
) were quantified through flow cytometry. Tissue sections from the same patients were assessed for PD-L1 expression and T cell infiltration via immunohistochemistry.
Results
Patients with grade III meningiomas demonstrated increased peripheral monocyte PD-L1 compared to patients with grade I/II meningiomas and healthy controls. Peripheral MDSC abundance was increased in grades II and III meningioma patients. PD-L1 staining of meningioma tissue demonstrated increased positivity in grade III meningiomas. Intratumoral PD-L1 was not associated with progression-free survival. High-grade meningiomas had increased T-cell infiltration. However, a significant proportion of these T cells were exhausted PD1+ T cells and immunosuppressive Tregs.
Conclusions
Patients with meningiomas exhibit signs of peripheral immunosuppression, including increased PD-L1 on myeloid cells and elevated MDSC abundance proportional to tumor grade. Additionally, the tumors express substantial PD-L1 proportional to tumor grade. These results suggest a role for immune checkpoint inhibitors targeting the PD-L1/PD-1 pathway in combination with standard therapies for the treatment of high-grade meningiomas.