01.03.2018 | Original Contributions | Ausgabe 7/2018 Open Access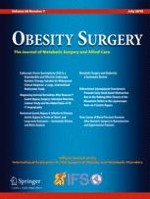 Systemic Inflammation in Severe Obese Patients Undergoing Surgery for Obesity and Weight-Related Diseases
Zeitschrift:
Autoren:

Wilson R. Freitas Jr., Luis Vicente Franco Oliveira, Eduardo A. Perez, Elias J. Ilias, Carina P. Lottenberg, Anderson S. Silva, Jessica J. Urbano, Manoel C. Oliveira Jr., Rodolfo P. Vieira, Marcelo Ribeiro-Alves, Vera L. S. Alves, Paulo Kassab, Fabio R. Thuler, Carlos A. Malheiros
Abstract
Background
Obesity is a worldwide disease related to genetic, environmental, and behavioral factors, and it is associated with high rates of morbidity and mortality. Recently, obesity has been characterized by a low-grade inflammatory state known as inflammome indicated by chronic increases in circulating concentrations of inflammatory markers. The purpose of this study was to evaluate the effect of weight loss induced by surgery for obesity and weight-related diseases on pro-inflammatory cytokine (TNF-α) and anti-inflammatory adipokine (adiponectin) levels, and on an adipose-derived hormone (leptin) in severely obese subjects.
Methods
This randomized, controlled trial involved 55 severe obese patients (50 women, age 18–63 years, and body mass index of 35.7–63 kg/m2) who underwent bariatric surgery (BS). Patients with a BMI > 65 kg/m2 and clinical and mental instability, or significant and unrealistic expectations of surgery were excluded. Blood samples were collected during the fasting period to analyze tumor necrosis factor alpha (TNF-α), adiponectin, and leptin levels by enzyme-linked immunosorbent assay.
Results
At baseline, no significant difference was observed in the anthropometric, demographic, clinical characteristics and biochemistry and inflammatory markers between the control group (CG) and bariatric surgery group (BSG). The same finding was also observed when we compared the baseline variables to those at the 6-month follow-up in the CG. However, the same variables in the BSG group were significantly different between baseline and the 6-month follow-up after BS.
Conclusions
Weight loss induced by surgery for obesity and weight-related diseases reduced the inflammome state in severely obese patients.