24.05.2019 | Case report | Ausgabe 4/2019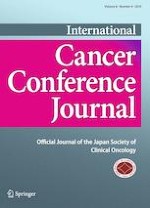 Systemic steroid treatment can desensitize the skin reaction due to regorafenib in a recurrence colorectal cancer patient
Zeitschrift:
Autoren:

Keita Tashiro, Eiji Shinto, Yoshiki Kajiwara, Satsuki Mochizuki, Koichi Okamoto, Aya Nishizawa, Takahiro Satoh, Yoji Kishi, Hideki Ueno
Wichtige Hinweise
Publisher's Note
Springer Nature remains neutral with regard to jurisdictional claims in published maps and institutional affiliations.
Abstract
Oral intake of regorafenib has been shown to have survival benefits in patients with metastatic colorectal cancer progressing on standard therapies. However, because of adverse effects, the patients sometimes cannot continue treatment with regorafenib. Currently, there is no established supportive therapy that can be performed to aid in continuing regorafenib intake under these problematic conditions. We report the case of a 59-year-old Japanese woman diagnosed with recurrence after curative operation for sigmoid colon cancer (T3N2aM0, Stage IIIC). Despite undergoing multiple lines of standard chemotherapy, disease control could not be maintained. Consequently, regorafenib was started as a late-line treatment. However, after 2 weeks, the patient experienced regorafenib-induced serious erythema multiforme; thus, regorafenib was discontinued and oral prednisolone was started. Regorafenib administration was resumed when the adverse effects resolved and prednisolone was stopped, but skin rash rapidly reappeared. Prednisolone treatment was reintroduced, which cured the rash; thus, after the third attempt to administer regorafenib, prednisolone was continuously administered. There was no relapse of the rash under prednisolone administration, and the patient received a total of 13 courses of regorafenib. Moreover, the metastatic lesions that had started to regrow at the end of the regorafenib therapy showed good response to the rechallenge chemotherapy of folinic acid, fluorouracil, and irinotecan therapy with panitumumab. The sequence of therapies possibly had a positive impact on the patient's long survival of 30 months after the regorafenib treatment. Systemic administration of steroid is considered as a promising option as a supportive therapy for continuing regorafenib treatment in patients experiencing a severe skin rash.