01.01.2012 | Review | Ausgabe 1/2012 Open Access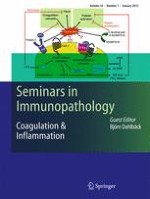 Systemic versus localized coagulation activation contributing to organ failure in critically ill patients
Zeitschrift:
Autoren:

Marcel Levi, Tom van der Poll, Marcus Schultz
Wichtige Hinweise
This article is published as part of the Special Issue on Coagulation & Inflammation [34:1]
Abstract
In the pathogenesis of sepsis, inflammation and coagulation play a pivotal role. Increasing evidence points to an extensive cross-talk between these two systems, whereby inflammation not only leads to activation of coagulation but coagulation also considerably affects inflammatory activity. The intricate relationship between inflammation and coagulation may not only be relevant for vascular atherothrombotic disease in general but has in certain clinical settings considerable consequences, for example in the pathogenesis of microvascular failure and subsequent multiple organ failure, as a result of severe infection and the associated systemic inflammatory response. Molecular pathways that contribute to inflammation-induced activation of coagulation have been precisely identified. Pro-inflammatory cytokines and other mediators are capable of activating the coagulation system and downregulating important physiological anticoagulant pathways. Activation of the coagulation system and ensuing thrombin generation is dependent on an interleukin-6-induced expression of tissue factor on activated mononuclear cells and endothelial cells and is insufficiently counteracted by physiological anticoagulant mechanisms and endogenous fibrinolysis. Interestingly, apart from the overall systemic responses, a differential local response in various vascular beds related to specific organs may occur.