01.12.2019 | Research | Ausgabe 1/2019 Open Access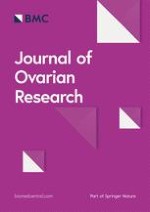 Syzygium cumini

(L.) Skeels improves metabolic and ovarian parameters in female obese rats with malfunctioning hypothalamus-pituitary-gonadal axis
Zeitschrift:
Autoren:

R. O. A. Benevides, C. C. Vale, J. L. L. Fontelles, L. M. França, T. S. Teófilo, S. N. Silva, A. M. A. Paes, R. S. Gaspar
Wichtige Hinweise
R. O. A. Benevides and C. C. Vale contributed equally to this work.
Abstract
Background
Obesity is a chronic and multifactorial disease characterized by increased adipose tissue. In females, obesity leads to reduced ovulation and lower chances of conception in diseases like polycystic ovary syndrome, making it important to characterize complementary medicine to attenuate such deleterious effects. Therefore, the aim of this study was to assess the effects of a hydroethanolic extract from
Syzigium cumini
leaves in female reproductive impairments present in the obesity model of neonatal L-monosodium glutamate injection.
Methods
Newborn Wistar rats received saline (CTRL) or L-monosodium glutamate 4 mg/g BW (MSG). At 90 days of age, CTRL and some MSG rats received saline, while others received hydroethanolic extract of
S. cumini
leaves (HESc 500 mg/kg/day, MSG-Syz group) for 30 consecutive days. Estrous cycle was determined by daily vaginal washes. On days 26 and 28 of treatment, oral glucose tolerance test and blood collection were performed for biochemical assessment. At the end, animals were euthanized during estrous phase; blood was collected to measure sex hormones and organs collected for weighing and histological evaluation.
Results
MSG-Syz showed reduced Lee Index, retroperitoneal fat pads and restored gluco-insulin axis. Moreover, HESc treatment reduced serum cholesterol levels when compared to MSG. Treatment with HESc did not restore the oligociclicity observed in obese animals, though MSG-Syz reestablished ovarian follicle health back to CTRL levels, with proliferating primordial follicles – these effects were followed by a decrease on periovarian adipocyte area.
Conclusions
This is the first report to show the reversibility of the reproductive dysfunctions seen in MSG female rats through ethnopharmacological treatment. Moreover, it expands the use of HESc as a prominent tool to treat metabolic and reproductive disorders. Finally, we provide novel evidence that, without a functioning hypothalamus-pituitary-gonads axis, metabolic improvement is ineffective for estrous cyclicity, but critical for ovarian follicle health.