01.12.2018 | Research article | Ausgabe 1/2018 Open Access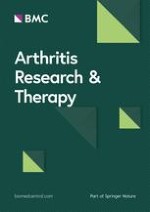 T-cell costimulation blockade is effective in experimental digestive and lung tissue fibrosis
Zeitschrift:
Autoren:

Gonçalo Boleto, Christophe Guignabert, Sonia Pezet, Anne Cauvet, Jérémy Sadoine, Ly Tu, Carole Nicco, Camille Gobeaux, Frédéric Batteux, Yannick Allanore, Jérôme Avouac
Wichtige Hinweise
Electronic supplementary material
Abstract
Background
We aimed to investigate the efficacy of abatacept in preclinical mouse models of digestive involvement, pulmonary fibrosis, and related pulmonary hypertension (PH), mimicking internal organ involvement in systemic sclerosis (SSc).
Methods
Abatacept has been evaluated in the chronic graft-versus-host disease (cGvHD) mouse model (abatacept 1 mg/mL for 6 weeks), characterized by liver and intestinal fibrosis and in the Fra-2 mouse model (1 mg/mL or 10 mg/mL for 4 weeks), characterized by interstitial lung disease (ILD) and pulmonary vascular remodeling leading to PH.
Results
In the cGvHD model, abatacept significantly decreased liver transaminase levels and markedly improved colon inflammation. In the Fra-2 model, abatacept alleviated ILD, with a significant reduction in lung density on chest microcomputed tomography (CT), fibrosis histological score, and lung biochemical markers. Moreover, abatacept reversed PH in Fra-2 mice by improving vessel remodeling and related cardiac hemodynamic impairment. Abatacept significantly reduced fibrogenic marker levels, T-cell proliferation, and M1/M2 macrophage infiltration in lesional lungs of Fra-2 mice.
Conclusion
Abatacept improves digestive involvement, prevents lung fibrosis, and attenuates PH. These findings suggest that abatacept might be an appealing therapeutic approach beyond skin fibrosis for organ involvement in SSc.