28.01.2020 | Original Research Paper | Ausgabe 3/2020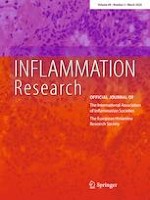 Tachykinin-1 receptor antagonism suppresses substance-P- and compound 48/80-induced mast cell activation from rat mast cells expressing functional mas-related GPCR B3
Zeitschrift:
Autoren:

Muhammad N. A. Sahid, Shuang Liu, Masaki Mogi, Kazutaka Maeyama
Wichtige Hinweise
Responsible Editor: John Di Battista.
Electronic supplementary material
Publisher's Note
Springer Nature remains neutral with regard to jurisdictional claims in published maps and institutional affiliations.
Abstract
Objective
Mice and rats are important animal models for mast cell (MC) study. However, rat Mas-related-GPCR-B3 receptor (MRGPRB3) has been less studied than its mouse counterpart. Therefore, we aimed to characterize rat MRGPRB3.
Methods
Mrgprb3
mRNA expression was assessed in peritoneal cells (RPCs) and peritoneal MCs (RPMCs) of wild-type rats, RPCs of MC-deficient rats, and RBL-2H3 cells by reverse-transcriptase polymerase chain reaction (RT-PCR). RPMCs,
MRGPRX2
-transfected and non-transfected RBL-2H3 cells were activated by 15–30 min incubation with DNP-BSA, substance-P (SP), or compound-48/80. L732138 or CP96344 was used as a tachykinin/neurokinin-1-receptor antagonist. Histamine release from MCs was measured by HPLC fluorometry.
Results
Mrgprb3
mRNA expression was found in all cells, with the highest level in wild-type RPCs. All cells responded to DNP-BSA, but only
MRGPRX2
-transfected-RBL-2H3 cells and RPMCs responded to all activators. L732138 (0.1–10 μM) and CP96344 (1–100 μM) suppressed SP (10 μM)-induced RPMC activation. L732138 inhibition was dose independent, whereas CP96344 inhibition occurred in a dose-dependent manner. Additionally, only CP96344 suppressed SP (100 μM)- and compound-48/80 (10 μg/mL)-induced RPMC activation.
Conclusions
RPMCs expressing functional MRGPRB3 response upon MRGPRX2 ligands to regulated MC-mediated activities. It`s provide novel insights for future pseudo-allergic studies in rodents.