01.12.2017 | Case report | Ausgabe 1/2017 Open Access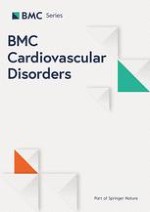 Takotsubo cardiomyopathy complicated with apical thrombus formation on first day of the illness: a case report and literature review
Zeitschrift:
Autoren:

H. M. M. T. B. Herath, S. P. Pahalagamage, Laura C. Lindsay, S. Vinothan, Sampath Withanawasam, Vajira Senarathne, Milinda Withana
Wichtige Hinweise
Electronic supplementary material
The online version of this article (doi:
10.​1186/​s12872-017-0616-0
) contains supplementary material, which is available to authorized users.
Abbreviations
MRI
magnetic resonance imaging
STEMI
ST elevation myocardial infarction
TTE
transthoracic echocardiogram
Background
Takotsubo cardiomyopathy (TCM) or stress-induced cardiomyopathy is characterized by transient systolic dysfunction of the apical and mid segments of the left ventricle in the absence of obstructive coronary artery disease. In the typical type of stress-induced cardiomyopathy, contractility of the mid and apical segments of the left ventricle is depressed and there is balloon-like appearance of the distal ventricle with systole. TCM is much more common in postmenopausal women and is frequently triggered by unexpected emotional or physical stress [
1
]. Exaggerated sympathetic stimulation [
2
], catecholamine excess [
3
], coronary artery spasm and micro vascular dysfunction have been postulated as possible mechanisms in Takotsubo cardiomyopathy. It is a transient disorder and resolves with conservative treatment and supportive therapy. Intraventricular thrombus formation is a rare complication of Takotsubo cardiomyopathy and current data almost exclusively consist of isolated case reports and a few case series. In one case series, only 5 out of 95 patients (5.3%) with TCM developed left ventricular apical thrombus [
4
].
Here we describe a case of a postmenopausal female who presented with TCM who was initially treated as acute ST segment elevation myocardial infarction (STEMI). Despite administration of streptokinase and enoxaparin, a large left ventricular clot was found on the transthoracic echocardiogram (TTE) performed within 24 h. Rapid development of an apical thrombus within 24 h in TCM is rarely reported in literature and here we illustrate the importance of follow up TTE in these patients to recognize this complication. We also focus on the case reports of TCM complicated with intraventricular thrombus formation with regards to management, since no treatment guidelines are available and only the previous case reports and case series can be used to guide management.
Case presentation
A 68-year-old Sri Lankan female (BMI 24.3 kg/ m
2
) was admitted to a local hospital, complaining of sudden onset severe retrosternal chest pain with autonomic symptoms. Electrocardiogram (ECG) showed ST segment elevations in leads LI, aVL, LII, LIII, aVF and V2 to V6 (Fig.
1
). A diagnosis of acute STEMI was made and oral Aspirin 300 mg, Clopidogrel 300 mg, Atorvastatin 40 mg and intravenous streptokinase 1.5 MU were administered 2 h after the onset of chest pain followed by subcutaneous enoxaparin. The patient's chest pain resolved, but due to persistent ST elevation on ECG, the patient was transferred to our cardiology unit for further management. She had been diagnosed with hypertension for 6 months and routine TTE performed 3 months previously showed normal ejection fraction and contractility. One week before this episode, she had 2 days of fever that was managed as viral illness at a local hospital. She was also emotionally stressed because her sister was recently diagnosed with a terminal cancer. She did not have any past history or family history of thromboembolic diseases or risk factors other than hypertension.
×
On examination, she was dyspnoeic at rest but maintained a saturation of more than 94% without supplemental oxygen. Her heart rate was 110 beats per minute and blood pressure was 100/60 mmHg. Jugular venous pressure was elevated and there were fine bibasal crepitations. TTE was performed 18 h after the onset of chest pain, which revealed hypokinesia of the mid and apical segments of the left ventricle with typical LV apical ballooning. Ejection fraction was 40% and a 2.5 cm × 2 cm apical thrombus was detected (Fig.
2
)(Additional file 1: Movie S1 and Additional file 2: Movie S2). Because the coronary angiogram performed at the same time showed normal coronary arteries, Takotsubo cardiomyopathy was diagnosed and she was commenced on metoprolol, losartan, atorvastatin, diuretics and aspirin. We continued subcutaneous enoxaparin 1 mg/ kg bd and added warfarin 5 mg daily. Her full blood count (hemoglobin 12 g/dL, white blood cell count 7.79 × 10
9/
L, platelet count 222 × 10
9/
L), renal function tests, liver function tests, thyroid function tests, serum calcium, serum magnesium and coagulation profile were within normal range. The greatest troponin I value was 2.2 ng/ml (normal <0.5 ng/ml). Erythrocyte sedimentation rate was 13 mm in the first hour and C-reactive protein (CRP) was 6.7 mg/L (normal <5 mg/L). Human immunodeficiency virus serology, venereal disease research laboratory and hepatitis serology were also negative. After achieving a therapeutic international normalized ratio of 2–3, enoxaparin was omitted. Her symptoms improved gradually over 1 week. Follow up TTE performed 1 week later showed only mild hypokinesia of the apex of the left ventricle and the thrombus had reduced in size (2.1 cm × 1.8 cm) (Fig.
3
). ECG also showed resolving ST elevation (Fig.
4
). After 3 weeks, TTE showed normally contracting ventricles and the thrombus had resolved. We discontinued warfarin and continued with the other drugs. She did not experience any thromboembolism.
×
×
×
Additional file 1: Movie S1.
TTE performed 18 h after the onset of chest pain, revealing hypokinesia of the mid and apical segments of the left ventricle with typical LV apical ballooning. Ejection fraction was 40% and a 2.5 cm × 2 cm apical thrombus was detected. (AVI 17890 kb)
Additional file 2: Movie S2.
TTE performed 18 h after the onset of chest pain, revealing hypokinesia of the mid and apical segments of the left ventricle with typical LV apical ballooning. Ejection fraction was 40% and a 2.5 cm × 2 cm apical thrombus was detected. (AVI 15305 kb)
Discussion
Conclusion
Although severe systolic dysfunction is observed in almost all patients with TCM, intraventricular thrombus formation is rarely reported in the literature. Most thrombi were detected during the first 2 weeks, emphasising the importance of follow up echocardiography at least 2 weeks later. The management of a left ventricular thrombus in TCM is controversial and in most cases warfarin and heparin is used for a short duration. Most of the thrombi resolved within 2 weeks of therapy and serial TTE can be used to monitor response. The role of prophylactic anticoagulants in TCM and risk factors to predict thrombosis should be examined further as current data is not enough to formulate a firm recommendation.
Acknowledgements
This case reports were supported by ward doctors in acquisition, analysising and interpretation of data. We are thankful to the patients relatives for the support given in providing data.
Funding
No source of funding.
Availability of data and materials
The datasets supporting the conclusions of this article are included within the article.
Ethics approval and consent to participate
Not applicable. Study approval was not necessary as this is a case report and consent for publication was taken from the patients.
Consent for publication
Written informed consent was obtained from the patients for publication of this case report and any accompanying images. A copy of the written consent is available for review by the Editor-in-Chief of this journal.
Competing interests
The authors declare that they have no competing interests.
Publisher's Note
Springer Nature remains neutral with regard to jurisdictional claims in published maps and institutional affiliations.
Open Access
This article is distributed under the terms of the Creative Commons Attribution 4.0 International License (
http://​creativecommons.​org/​licenses/​by/​4.​0/​
), which permits unrestricted use, distribution, and reproduction in any medium, provided you give appropriate credit to the original author(s) and the source, provide a link to the Creative Commons license, and indicate if changes were made. The Creative Commons Public Domain Dedication waiver (
http://​creativecommons.​org/​publicdomain/​zero/​1.​0/​
) applies to the data made available in this article, unless otherwise stated.