01.12.2017 | Case report | Ausgabe 1/2017 Open Access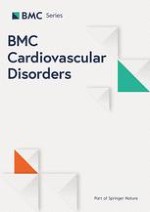 Takotsubo cardiomyopathy in a patient with ileus: a case report
Zeitschrift:
Autoren:

Chen-Yu C. Guo, Nan-Sung Chou
Abstract
Background
Takotsubo cardiomyopathy (TCM) is a form of stress-induced cardiomyopathy featured by the dilatation of the apex of the left ventricle during systole. Whereas the pathogenesis of this disorder is not well understood, it usually occurs after an emotional or physical stress such as acute asthma, surgery, chemotherapy, and stroke. However, its occurrence in ileus patients is rarely reported. We hereby report probably the first case of TCM after ileus in the literature and discuss its implications.
Case presentation
An 85-year-old man was brought to the Emergency Department due to vomiting, abdominal pain, and no stool passages for 2 days. His abdomen was markedly distended, and ileus pattern was observed in the plain film of abdomen. Electrocardiogram showed right axis deviation, poor R-wave progression, and diffuse ST-segment elevation in the anterior leads, and cardiomegaly was observed by roentgenogram. A ventriculography showed an ejection fraction of 33% and confirmed the apical dilation consistent with TCM. He was treated with medication and discharged without remarkable adverse events. A follow-up transthoracic echocardiogram 4 months later showed normalization of his left ventricular systolic functions.
Conclusion
The precise mechanisms of the development of TCM are still unknown, but it is widely believed that it is triggered by the catecholamine surge produced in response to stress. This case demonstrated that such a stress can be of various forms, including ileus and other conditions that may lead to severe abdominal pain, and highlight the importance of awareness in diagnosing this rare but potentially lethal condition.