01.12.2016 | Case report | Ausgabe 1/2016 Open Access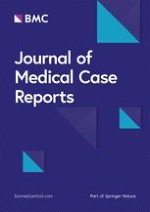 Takotsubo-like syndrome triggered by fludrocortisone overdose for Addison's disease: a case report
Zeitschrift:
Autoren:

Radu Campean, Matthias Hasun, Claudia Stöllberger, Johannes Bucher, Josef Finsterer, Christoph Schnack, Franz Weidinger
Abstract
Background
Reversible left ventricular dysfunction, also termed Takotsubo cardiomyopathy, is rarely reported in Addison's disease after initiation of hormone replacement therapy. The pathogenesis of this cardiomyopathy is unknown.
Case presentation
A 41-year-old white woman with a history of autoimmune Hashimoto thyroiditis diagnosed 3 years earlier and acute adrenal insufficiency diagnosed 3 weeks earlier presented with new onset of heart failure New York Heart Association class IV, which had started shortly after initiation of hormone replacement therapy with hydrocortisone 20 mg/day and fludrocortisone 0.3 mg/day. Nine days before admission she had collapsed because of dizziness and had a cerebral concussion and open fracture of her nasal bone, however, no further investigations were carried out at that time.
A physical examination revealed leg edema, tachycardia, tachypnea, bilateral basal crepitations, and blood pressure 110/70 mmHg. An electrocardiogram showed sinus tachycardia, low voltage, negative T-waves in V5 and V6 and a corrected QT interval of 590 ms. Echocardiography revealed a reduced left ventricular systolic function with an ejection fraction of 30 %, and septal, apical, and anterior wall akinesia. Cardiac magnetic resonance imaging showed relative enhancement of gadolinium, indicating hyperemia and capillary leakage, and no myocardial scars. Because of the improvement in her cardiac function, lack of cardiovascular risk factors, and lack of signs for ischemia on magnetic resonance imaging, no coronary angiography was carried out. The results of sellar and renal magnetic resonance imaging were normal. Her troponin T was slightly elevated. Bisoprolol and ramipril were started. Her fludrocortisone dose was reduced to 0.05 mg/day. Her electrocardiogram and systolic function, documented by echocardiography and magnetic resonance imaging, normalized within 6 months.
Conclusions
Although we could not exclude coronary artery disease by coronary angiography, her clinical course and instrumental findings suggest Takotsubo cardiomyopathy of the apical type. Fludrocortisone overdosage and increased myocardial vulnerability due to cortisol deficiency might be pathogenetic factors, whereas myocarditis is unlikely. When hormone replacement in patients with Addison's disease is initiated, cardiac function should be monitored by electrocardiogram and echocardiography.