09.01.2020 | Ausgabe 2/2020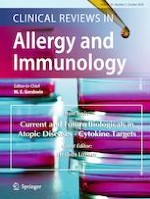 Targeted Anti-IL-5 Therapies and Future Therapeutics for Hypereosinophilic Syndrome and Rare Eosinophilic Conditions
Zeitschrift:
Autoren:

Aasha Harish, Stanley A. Schwartz
Wichtige Hinweise
The original version of this article was revised: it contained a mistake in the fifth paragraph of the "Conclusion" section. The corrected text reads "Dexpramipexole, an investigational drug initially developed for the treatment of amyotrophic lateral sclerosis, has been shown to cause sustained eosinopenia". Additionally, in that same paragraph, the units used to measure eosinophil counts should read "μL-1".
Publisher's Note
Springer Nature remains neutral with regard to jurisdictional claims in published maps and institutional affiliations.
Abstract
Eosinophilic inflammation is a component of many atopic diseases such as asthma, and biologics targeting eosinophils have been shown to be effective in subsets of these patients. However, there also are conditions in which eosinophils are the key inflammatory cells responsible for driving tissue damage. In these eosinophilic diseases such as hyper-eosinophilic syndrome, eosinophilic esophagitis, and eosinophilic granulomatosis with polyangiitis (EGPA), the development of biologics inhibiting eosinophilic inflammation have offered targeted therapeutic strategies for patients that have not responded well to typical first line drugs, which often have significant adverse side effects with poor disease modification or recurrent relapse with significant morbidity. IL-5 has long been recognized as the key inflammatory cytokine involved in the priming and survival of eosinophils and their proliferation and maturation in eosinophilic disease. There are a number of trials and case series demonstrating the immunomodulatory benefits of anti-IL-5 therapies in these diseases with good clinical responses. Yet, due to the heterogeneity and rarity of these conditions, anti-IL-5 therapies have not resulted in disease remission for all patients. Clearly, further research into the use of anti-IL-5 therapies in various eosinophilic diseases is needed and ongoing investigation into other immune mechanisms underlying chronic eosinophilic diseases may provide alternative therapies for these challenging conditions.