07.01.2016 | Laboratory Investigation | Ausgabe 3/2016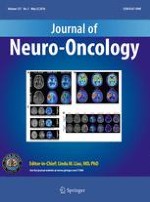 Targeted next generation sequencing reveals unique mutation profile of primary melanocytic tumors of the central nervous system
Zeitschrift:
Autoren:

Johannes van de Nes, Marco Gessi, Antje Sucker, Inga Möller, Mathias Stiller, Susanne Horn, Simone L. Scholz, Carina Pischler, Nadine Stadtler, Bastian Schilling, Lisa Zimmer, Uwe Hillen, Richard A. Scolyer, Michael E. Buckland, Libero Lauriola, Torsten Pietsch, Andreas Waha, Dirk Schadendorf, Rajmohan Murali, Klaus G. Griewank
Wichtige Hinweise
Electronic supplementary material
The online version of this article (doi:
10.​1007/​s11060-015-2052-2
) contains supplementary material, which is available to authorized users.
Abstract
Melanocytic tumors originating in the central nervous system (MT-CNS) are rare tumors that generally have a favorable prognosis, however malignant tumors do occur. Pathogenetically MT-CNS are not well characterized. Similar to uveal melanoma and blue nevi, they frequently harbor activating
GNAQ
or
GNA11
mutations. Rare
NRAS
mutations have also been reported. Other mutations have not yet been described. We analyzed 19 MT-CNS, 7 uveal melanomas and 19 cutaneous melanomas using a targeted next generation sequencing approach analyzing 29 genes known to be frequently mutated in other melanocytic tumors (in particular uveal and cutaneous melanomas). In concordance with previous studies, cutaneous melanoma samples showed frequent
NRAS
or
BRAF
mutations, as well as mutations in other genes (e.g.
NF1, RAC1, PIK3CA, ARID1A
). Metastasized uveal melanomas exhibited mutations in
GNAQ
,
GNA11
and
BAP1
. In contrast, MT-CNS almost exclusively demonstrated mutations in
GNAQ
(71 %) or
GNA11
(12 %). Interestingly both
GNA11
mutations identified were detected in MT-CNS diagnosed as intermediate grade melanocytomas which also recurred. One of these recurrent cases also harbored an inactivating
BAP1
mutation and was found to have lost one copy of chromosome 3. Our findings show that while MT-CNS do have
GNAQ
or
GNA11
mutations, they rarely harbor other recurrent mutations found in uveal or cutaneous melanomas. Considering chromosome 3 and BAP1 loss are robust markers of poor prognosis in uveal melanoma, it will prove interesting to determine whether these genomic alterations are also of prognostic significance in MT-CNS.