01.12.2018 | Research | Ausgabe 1/2018 Open Access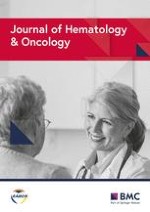 Targeting FLT3 in acute myeloid leukemia using ligand-based chimeric antigen receptor-engineered T cells
Zeitschrift:
Autoren:

Ying Wang, Yingxi Xu, Saisai Li, Jia Liu, Yanyan Xing, Haiyan Xing, Zheng Tian, Kejing Tang, Qing Rao, Min Wang, Jianxiang Wang
Wichtige Hinweise
Electronic supplementary material
Abstract
Background
Chimeric antigen receptor-engineered T (CAR-T) cells have extraordinary effect in treating lymphoblastic leukemia. However, treatment of acute myeloid leukemia (AML) using CAR-T cells remains limited to date. Leukemogenesis always relates with the abnormalities of cytogenetics, and nearly one third of AML patients have activating mutations in Fms-like tyrosine kinase 3 (FLT3) which reminded poor prognosis. Considering the FLT3 expressed in AML patients' blast cells, it may be a new candidate target for CAR-T therapy to treat FLT3+ AML, especially patients harboring FLT3-ITD mutation.
Methods
The FLT3L CAR-T using FLT3 ligand as recognizing domain was constructed. The specific cytotoxicity against FLT3+ leukemia cell lines, primary AML cells, and normal hematopoietic progenitor stem cells (HPSCs) in vitro were evaluated. In addition, FLT3+ AML mouse model was used to assess the effect of FLT3L CAR-T therapy in vivo.
Results
FLT3L CAR-T cells could specifically kill FLT3+ leukemia cell lines and AML patients' bone marrow mononuclear cells in vitro (with or without FLT3 mutation) and have more potent cytotoxicity to FLT3-ITD cells. In a human FLT3+ AML xenograft mouse model, FLT3L CAR-T cells could significantly prolong the survival of mice. Furthermore, it was found that FLT3L CAR-T cells could activate the FLT3/ERK signaling pathway of FLT3+ leukemia cells with wild-type FLT3; meanwhile, it had no inhibitory effects on the colony formation of CD34+ stem cells derived from normal human umbilical cord blood.
Conclusions
The ligand-based FLT3L CAR-T cells could be a promising strategy for FLT3+ AML treatment, especially those carried FLT3 mutation.