01.12.2017 | Research article | Ausgabe 1/2017 Open Access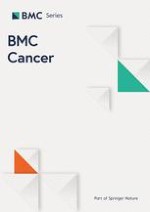 Targeting MCL-1 sensitizes human esophageal squamous cell carcinoma cells to cisplatin-induced apoptosis
Zeitschrift:
Autoren:

Xinfang Yu, Wei Li, Zhenkun Xia, Li Xie, Xiaolong Ma, Qi Liang, Lijun Liu, Jian Wang, Xinmin Zhou, Yifeng Yang, Haidan Liu
Abbreviations
ESCC
Esophageal squamous cell carcinoma
NSCLC
Non-small cell lung cancer
pTNM
pathologic tumor-node-metastasis
RT-PCR
Reverse transcription-RCR
Background
Esophageal squamous cell carcinoma (ESCC) is one of the most frequently diagnosed cancers in developing countries, especially in Eastern Asia [
1
]. Although the therapy strategies have been improved, ESCC is still one of the most aggressive types of cancer with poor prognosis and rapid progression and the 5-year overall survival rate less than 15%. Palliative chemotherapy with platinum-based regimen is generally indicated for patients with ESCC. Response rate to these platinum drugs is modest. Hence, there is a need for a novel treatment modality involving these anticancer drugs that selectively target cancer cells and circumvent treatment-resistant pathways for the management of ESCC.
Myeloid cell leukemia 1 (MCL-1) is a major prosurvival member of the Bcl-2 family proteins, which is mainly localized to the outer mitochondrial membrane via its C-terminal transmembrane (TM) domain [
2
]. Studies demonstrated the MCL-1 is important for cell proliferation, differentiation and tumorigenesis by regulating the apoptosis pathway [
3
,
4
]. By sequestering the proapoptotic multidomain proteins BAX and BAK, MCL-1 inhibits permeabilization of the mitochondrial membrane and ultimately preventing apoptosis. MCL-1 is subject to negative regulation by BH3-only protein family (e.g. NOXA, BIM and PUMA), which specifically bind to the BH3 binding groove, formed by BH domains of MCL-1, displacing MCL-1 from BAX and/or BAK and thus promoting apoptosis. MCL-1 frequently overexpressed in a variety of human tumor tissues, including stomach [
3
], liver [
5
], pancreas [
6
], prostate [
7
] and lung [
8
], which contributes to tumor development and progression and associated with poor patient prognosis. High expression of MCL-1 has been shown in human esophageal carcinoma cell lines including CE8 1 T/VGH, KYSE450, TE-1, Eca109, KYSE150 and KYSE510 [
9
–
11
]. However, whether MCL-1 is overexpressed in human primary ESCC tumors and contributes to ESCC development and progression remains unclear.
Cisplatin is frequently used for the treatment of various cancers, including ESCC, but some patients have a poor response to cisplatin-based chemotherapy. New strategies that could enhance chemosensitivity to cisplatin are needed. Overexpression of MCL-1 is frequently resistance to various cancer therapies, including chemotherapy [
12
]. Genetic silencing of
Mcl-1
sensitizes a spectrum of cancers, such as melanoma, non-small cell lung and hepatocellular cancers to chemotherapy [
8
]. In addition, plenty of researches showed that the expression level of MCL-1 determines the sensitivity of multiple cancers to cisplatin. For instance, microRNA-193b enhances the cytotoxicity of cisplatin to hepatocellular carcinoma cells by targeting
Mcl-1
[
13
]. Imperatorin acts as a cisplatin sensitizer via down-regulating MCL-1 expression in HCC chemotherapy [
14
]. The selective Wee-1 kinase inhibitor AZD-1775 sensitizes HPV-positive HNSCC cells to cisplatin-induced apoptosis in vitro accompanied by selective decrease in expression of MCL-1 and XIAP antiapoptotic proteins [
15
]. Knockdown of MCL-1 by siRNA or inhibition of MCL-1 by specific pharmacologic inhibitor EU-5148, sensitizes TWEAK-treated non-small cell lung cancer cells to cisplatin-mediated apoptosis [
8
]. Knockdown of MCL-1 also enhances sensitivity to cisplatin in gastric cancer cells expressing high levels of MCL-1 [
16
]. Considering high expression of MCL-1 in some ESCC cell lines [
9
–
11
], MCL-1 might function as an effective target to enhance the sensitivity of ESCC cells to cisplatin. However, whether MCL-1 inhibition acts as a cisplatin-chemosensitizing strategy in ESCC cells and the underlying mechanism remains incompletely defined.
In the current study, we found that MCL-1 expression was significantly increased in ESCC tissues compared to normal adjacent tissues and was associated with depth of invasion and lymph node metastasis. Moreover, MCL-1 inhibition by either genetical or pharmacological approach significantly enhanced the cytotoxicity of cisplatin to ESCC cells. The combination of UMI-77 and cisplatin induced apoptosis more significantly compared with treatment of UMI-77 or cisplatin alone by causing caspase-3 activation and PARP cleavage. In addition, the results demonstrated that UMI-77 prevented MCL-1/BAX and MCL-1/BAK complexes formation. To our knowledge, this is the first report to demonstrate that the chemosensitizing effect of a selective MCL-1 inhibitor UMI-77 combined with cisplatin to treat ESCC cells. The results suggested that MCL-1 is a promising therapeutic target for chemosensitization of ESCC cells to cisplatin and might provide a scientific basis for developing effective approaches to treatment human ESCCs.
Methods
Clinical tissue sample collections
Fresh tumor tissues and the corresponding normal adjacent tissues of the same patient with pathologically and clinically confirmed ESCC were collected from 49 patients by the Department of Cardiothoracic Surgery, The Second Xiangya Hospital of Central South University, Changsha, Hunan, China. Several small pieces of fresh tumor tissue samples were dissected from the main tumor part of each surgically removed specimen. A portion of tumor and normal adjacent tissues were frozen immediately in liquid nitrogen and then stored at −80 °C for protein and mRNA extraction and analysis of MCL-1 expression by RT-PCR and Western blotting, respectively. A portion of tumor and normal adjacent tissues were fixed in formalin solution and sent for histological examination. The paraffin-embedded sections from the specimens, which were diagnosed as having ESCC, were used for immunostaining of MCL-1 protein expression. All tumors were confirmed as ESCC by the Clinicopathologic Department at the Second Xiangya Hospital of Central South University. All cases were classified according to the sixth edition of the pathologic tumor-node-metastasis (pTNM) classification. All the patients received no treatment before surgery.
Cell lines and culture
The KYSE150, KYSE510, Eca109, and TE-1 ESCC cell lines were obtained and grown in RPMI-1640 medium supplemented with 10% FBS and 1% antibiotics as previously reported [
9
]. Het-1A, a non-tumourigenic SV40T-immortalized human esophageal epithelial cell line [
17
], was purchased from the American Type Culture Collection (Manassas, VA). The 293 T cell line was obtained as previously reported [
18
]. Het-1A and 293 T cells were cultured with Dulbecco's Modified Eagle Medium (DMEM) containing 10% FBS and 1% antibiotics. All cell lines were incubated at 37 °C in a humidified atmosphere containing 5% CO
2
. Each vial of frozen cells was thawed and maintained for 2 months (10 passages). The cells were cultured for 36 to 48 h and proteins extracted for analysis.
Reagents
Chemical reagents, including Tris, NaCl, and SDS, for molecular biology and buffer preparation were purchased from Sigma-Aldrich (St. Louis, MO). UMI-77 (Cat. No. S7531, Selleck Chemicals) was dissolved in DMSO at 100 mM and stored in aliquot at −80 °C. Aliquots were diluted in corresponding medium just before addition to cell cultures. Cisplatin (Cat. No. 479306) was purchased from Sigma-Aldrich (St. Louis, MO). Stock cisplatin solution was prepared in DMSO at 200 mM stored as aliquots at −80 °C and used within 1 week and further diluted in medium before adding to the cells. The short hairpin RNAs (shRNAs) against human
Mcl-1
were purchased from Thermo Scientific. Two targeting sequences,
pLKO.1-shMCL-1#1
, CCGGGCTAAACACTTGAAGACCATACTCGAGTATGGTCTTCAAGTGTTTAGCTTTTTG and
pLKO.1-shMCL-1#2,
CCGGGCAGAAAGTATCACAGACGTTCTCGAGAACGTCTGTGATACTTTCTGCTTTTTG, were used in the study.
pLKO.1-shGFP
(plasmid #30323), the lentiviral packaging plasmid
psPAX2
(plasmid #12260) and the envelope plasmid
pMD2.G
(plasmid #12259) were available on Addgene (Cambridge, MA).
Cell proliferation assays
Cell proliferation assays were performed as previously described [
18
].
Anchorage-independent cell growth assays
Cells (8 × 10
3
per well) were seeded into 6-well plates with 0.3% Basal Medium Eagle agar containing 10% FBS and cultured. The cultures were maintained at 37 °C in a 5% CO
2
incubator for 2 or 3 weeks and colonies were counted under a microscope as previously described [
18
]
.
Protein preparation and Western blot analysis
Frozen tissue samples were sectioned into small pieces and dissolved in lysis buffer containing 50 mM Tris-Cl (pH 8.0), 150 mM NaCl, 0.1% SDS, 100 μg/ml phenylmethylsulfonyl fluoride, 2 μg/ml aprotinin, 2 μg/ml leupeptin, 1% NP-40. The samples were homogenized, sonicated and kept on ice for 30 min. After centrifugation, the supernatant was collected for immunoblotting analysis. Cultured cells were harvested and whole cell lysates were prepared according to the method previously described [
18
]. Protein concentration was determined using the BCA Assay Reagent (Cat. no. 23228, Pierce, Rockford, IL). Western blotting was performed as previously described [
18
]. Primary antibodies were used for immunoblotting: MCL-1 (#5453), cleaved caspase-3 (#9664), cleaved PARP (#5625), BCL-2 (#2870), BCL-xL (#2764), BAX (#5023) and BAK (#6947) from Cell Signaling Technology; β-actin (A5316) from Sigma-Aldrich; GAPDH (sc-47,724) from Santa Cruz Biotechnology. Secondary antibodies were anti-rabbit IgG HRP (#7074) and anti-mouse IgG HRP (#7076) and purchased from Cell Signaling Technology. Antibody conjugates were visualized by chemiluminescence (ECL; cat#34076, Thermo).
mRNA extraction and reverse transcription-polymerase chain reaction (RT-PCR)
Total RNA was extracted from frozen specimens using Trizol reagent (Invitrogen, Carlsbad, CA). First-strand cDNA was synthesized from 2 μg of total RNA using the Reverse Transcription System Kit (Cat. No. A3500, Promega, Madison, WI). The resulted cDNA was subjected to PCR (95 °C for 5 min followed by 36 cycles of 95 °C for 30 s, 55 °C for 30 s, 72 °C for 40 s, and an extension for 10 min at 72 °C) using primers designed for human
Mcl-1
[
9
]: sense, 5′-cggcagtcgctggagattat-3′ and antisense, 5′-gtggtggtggttggtta-3′, yield a 573-bp product; or for
β-actin
: sense, 5′-ttccagccttccttcctggg-3′ and antisense, 5′-ttgcgctcaggaggagcaat-3′, yield a 224-bp product. PCR products were separated on 1.5% agarose gels and visualized with ethidium bromide.
Immunohistochemical (IHC) staining
Tumor tissues obtained from ESCC patients or euthanized xenografted mice were embedded in paraffin and subjected to immunohistochemistry staining with specific antibodies against MCL-1 (1:100, sc-819, Santa Cruz Biotechnology) or Ki67 (1:200, ab16667, Abcam) according to the DAKO system protocol. Hematoxylin was used for counterstaining. Slides were viewed and photographed under a light microscope, and analyzed using Image-Pro Plus Software (version 6.2) program (Media Cybernetics).
RNA interference
The generation of gene stable knockdown cell lines was performed as described previously [
18
]. Briefly, to generate MCL-1 knocking down cells,
pLKO.1-shGFP
,
pLKO.1-shMCL-1#1
and
pLKO.1-shMCL-1#2
lentivirus plasmids were cotransfected into 293 T cells with
pSPAX2
and
pMD2.G
. Viral supernatant fractions were collected at 48 h after transfection and filtered through a 0.45 μm filter followed by infection into KYSE150 and KYSE510 cells together with 6 μg/mL polybrene. At 16 h after infection, the medium was replaced with fresh medium containing 2 μg/mL puromycin and cells were incubated for another 6 days. For transient knockdown MCL-1, KYSE150 and KYSE510 cells were grown in 6-well plates and transfected with an
Mcl-1
siRNA (Cat. No. SC-35877; Santa Cruz Biotechnology) or a control siRNA (Cat no. sc-37,007; Santa Cruz Biotechnology) using HiPerFect transfection reagent (Cat no. 301705, Qiagen) for 48 h according to the manufacturer's instructions. Cells were then harvested for protein extraction and immunoblotting to confirm MCL-1 knockdown.
Co-immunoprecipitation (co-IP) assays
Co-IP assays were performed as described previously [
19
]. Briefly, cells were serum-starved in 0.1% FBS/RPMI 1640 medium overnight followed by treatment with DMSO or the indicated concentrations of UMI-77 for 48 h. Cells were harvested in IP lysis buffer (Cat. No. 87788, Thermo Scientific) as described by the manufacturer. Cell lysates were pre-cleared with 40 μl of protein A/G-agarose beads (sc-2003, Santa Cruz Biotechnology) and immunoprecipitated with 2 μg of anti-MCL-1 (sc-819, Santa Cruz Biotechnology) or normal rabbit IgG (NI01, Calbiochem) at 4 °C overnight, followed by 2 h of incubation at 4 °C with 40 μl of protein A/G-agarose beads. Immunocomplexes were resolved by SDS-PAGE and co-immunoprecipitated proteins were detected using anti-BAX (#5023, Cell Signaling Technology) and anti-BAK (#6947, Cell Signaling Technology) antibodies, respectively.
In vivo tumor growth assay
All mouse studies were performed utilizing protocols approved by the Institutional Animal Care and Use Committee of the Second Xiangya Hospital of Central South University. Athymic nude mice (BALB/c nude mouse, 6 wk. old) were randomly divided into two groups (
n
= 10) and subcutaneously injected in the flank with KYSE150-shGFP or KYSE150-shMCL-1#2 esophageal carcinoma cells (2 × 10
6
). Mice were weighed and tumors measured by caliper every other day. Tumor volume was calculated from measurements of 2 diameters of the individual tumor according to the following formula: tumor volume (mm
3
) = (length × width × width/2) [
19
]. Mice were monitored until day 27 and at that time mice were euthanized and tumors extracted.
Statistical analysis
Statistical analysis was done with the statistical software program SPSS ver.12.0. The statistical significance of the correlations between MCL-1 overexpression and clinicopathologic characteristics were assessed by
χ
2
test or Fisher's exact test. Results expressed as mean ± SD were analyzed using the Student's
t
test. Differences were considered significant when
p
< 0.05.
Results
Discussion
Conclusions
Our results suggests that MCL-1 contributes to the development of ESCC and provide insights into the potential role of MCL-1 as a therapeutic target in ESCC chemotherapy and show that antagonizing MCL-1 function with RNAi-mediated knockdown or small molecule MCL-1 inhibitor UMI-77 sensitizes ESCC cells to cisplatin-induced apoptosis. Our results suggest that targeting MCL-1 in combination with other chemotherapic agents might be a plausible therapeutic strategy to enhance the treatment efficacy for ESCCs.
Acknowledgements
Not applicable.
Funding
This work was supported by the National Natural Science Foundation of China (No.81572280, No.81502121 and No.81401548). The funding body had no role in study design, data collection and analysis, interpretation of data, or writing of the manuscript.
Availability of data and materials
The datasets used and/or analyzed are available from the corresponding author on reasonable request.
Ethics approval and consent to participate
This study was approved by the ethics committee of the Second Xiangya Hospital, Central South University. All the patients provided their written informed consent.
All animal procedures were approved by the Institutional Animal Care and Use Committee of the Second Xiangya Hospital, Central South University.
Consent for publication
Not applicable.
Competing interests
The authors declare that they have no competing interests.
Publisher's Note
Springer Nature remains neutral with regard to jurisdictional claims in published maps and institutional affiliations.
Open Access
This article is distributed under the terms of the Creative Commons Attribution 4.0 International License (
http://​creativecommons.​org/​licenses/​by/​4.​0/​
), which permits unrestricted use, distribution, and reproduction in any medium, provided you give appropriate credit to the original author(s) and the source, provide a link to the Creative Commons license, and indicate if changes were made. The Creative Commons Public Domain Dedication waiver (
http://​creativecommons.​org/​publicdomain/​zero/​1.​0/​
) applies to the data made available in this article, unless otherwise stated.