03.08.2020 | Review | Ausgabe 10/2020 Open Access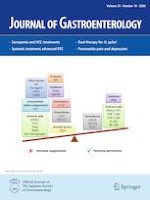 Targeting the immune milieu in gastrointestinal cancers
Zeitschrift:
Autoren:

Fiona Turkes, Justin Mencel, Naureen Starling
Wichtige Hinweise
Publisher's Note
Springer Nature remains neutral with regard to jurisdictional claims in published maps and institutional affiliations.
Introduction
Gastrointestinal cancers are a huge global health problem. In 2018 almost 5 million new cases were diagnosed [
1
], the vast majority of which would have been at an advanced stage. While efforts to improve early diagnosis of these diseases are gaining momentum, gastrointestinal (GI) cancers are still the most deadly of all malignancies with colorectal, stomach and liver cancers representing the second, third and fourth leading causes of cancer-related deaths, respectively [
1
].
Over the past decade immunotherapy has revolutionized cancer treatment. Immune checkpoint inhibitors (ICIs) are now the cornerstone of managing malignancies such as lung, renal and skin cancers, among others. In some cases patients are experiencing marked radiological responses which may be sustained for years and side effects can be minimal compared with traditional chemotherapies. For an increasing number, this has meant a better quality and longer life. However, the activity of immunotherapeutic agents in GI cancers has, on the whole, been much less striking. Furthermore, in a population of 'all-comers', it is frequently unknown who may benefit due to the relative lack of reliable predictive biomarkers. For the majority of patients with newly diagnosed advanced/metastatic GI cancer, the mainstay of treatment still involves chemotherapy and/or a targeted agent. However, chemotherapy and/or targeted agents beyond the second-line have minimal efficacy in these diseases. More efficacious treatments are urgently needed.
ICIs work by inhibiting the interaction between an immunosuppressive ligand or signal and their corresponding receptor or protein on immune or tumor cells, thus restoring the pre-existing host immune response against cancer [
2
]. Examples of ICIs include those that target the PD-1:PD-L1 interaction and reinvigorate cytotoxic T cell (CTL) function mainly in peripheral tissues e.g. pembrolizumab (anti-PD-1), nivolumab (anti-PD-1), atezolizumab (anti-PD-L1) or anti-CTLA-4 agents e.g. ipilimumab which act at an earlier stage of anti-cancer immunity by encouraging T cell activation in draining lymph nodes. The tumor microenvironment (TME) is a highly complex interplay of various different innate and adaptive immune cells such as NK cells, tumor-associated macrophages (TAMs) and T and B lymphocytes, stromal cells, such as cancer-associated fibroblasts (CAFs), endothelial cells, extracellular matrix (ECM) and secreted factors and it is of critical importance to supporting the success or failure of effective ICI therapy [
3
]. As such, where ICIs have not been effective as single agents, research has concentrated on combining ICIs with agents that target rational components of the TME to convert a 'cold' TME to an 'immunogenic' or 'hot' one, thus directing the immune response toward killing cancer cells and improving patient outcomes [
4
].
This article will discuss the currently approved ICIs available for the treatment of GI cancers, strategies underway focusing on combining ICIs with agents that target the TME and touch on recent progress toward predictive biomarker identification. Combinations of ICIs with cancer vaccines, cellular therapies or cytokine based therapies will not be covered.
Pre-requisites for anti-cancer immunity and the immune landscape of gastrointestinal cancers
The current role of checkpoint inhibitors in gastrointestinal cancers
Combining immune checkpoint inhibitors with agents that target the TME
Conclusion
Over the past few years, data supporting clinical benefit for immune checkpoint inhibitors in the treatment of gastrointestinal cancers has gradually mounted and approvals for specific indications have come through. However, the challenge of expanding the benefit of immunotherapy to the majority of the population with non-T cell inflamed, 'cold' gastrointestinal tumors with intrinsic resistance to these therapies is still very much an unmet need. Research efforts into effective predictive biomarker identification, fraught with hurdles such as intratumoral heterogeneity, is still being explored and refined however much headway has already been made. Furthermore, rational combinatorial strategies of immune checkpoint inhibitors with agents that produce beneficial immunomodulatory effects and reprogram the TME to overcome intrinsic resistance to effective anti-cancer immunity, hold significant promise. The corresponding translational components of the clinical studies discussed herein may be the key to gaining a deeper understanding of underlying mechanisms of response and resistance to these strategies and slowly unlock more about the intricacies of the immune milieu in these malignancies with the hope of discovering more efficacious treatments for our patients.
Acknowledgements
This work is supported by the National Institute for Health Research (NIHR), Biomedical Research Center (BRC) at the Royal Marsden NHS Foundation Trust, and the Institute of Cancer Research.
Compliance with ethical standards
Disclosure statement
Fiona Turkes and Justin Mencel have no conflict of interest to disclose.
Naureen Starling has the following conflict of interest disclosures: Research Funding: AstraZeneca, BMS, Pfizer; Travel & Accommodation: AstraZeneca, BMS, Eli Lilly, Merck, Roche; Honoraria: AstraZeneca, Eli Lilly, Merck, Servier; Advisory Board: Pfizer, AstraZeneca, Servier.
Open Access
This article is licensed under a Creative Commons Attribution 4.0 International License, which permits use, sharing, adaptation, distribution and reproduction in any medium or format, as long as you give appropriate credit to the original author(s) and the source, provide a link to the Creative Commons licence, and indicate if changes were made. The images or other third party material in this article are included in the article's Creative Commons licence, unless indicated otherwise in a credit line to the material. If material is not included in the article's Creative Commons licence and your intended use is not permitted by statutory regulation or exceeds the permitted use, you will need to obtain permission directly from the copyright holder. To view a copy of this licence, visit
http://​creativecommons.​org/​licenses/​by/​4.​0/​
.
Publisher's Note
Springer Nature remains neutral with regard to jurisdictional claims in published maps and institutional affiliations.