01.12.2017 | Research | Ausgabe 1/2017 Open Access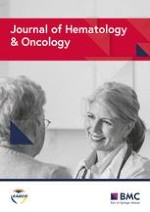 Targeting VEGFR-3/-2 signaling pathways with AD0157: a potential strategy against tumor-associated lymphangiogenesis and lymphatic metastases
Zeitschrift:
Autoren:

Melissa García-Caballero, Jenny Paupert, Silvia Blacher, Maureen Van de Velde, Ana Rodríguez Quesada, Miguel Angel Medina, Agnès Noël
Wichtige Hinweise
Electronic supplementary material
The online version of this article (doi:
10.​1186/​s13045-017-0484-1
) contains supplementary material, which is available to authorized users.
Abstract
Background
Lymphatic metastasis is one of the leading causes of death in patients with different types of cancer and is the main prognostic factor for the disease survival. The formation of new lymphatic vessels (lymphangiogenesis) in primary tumors facilitates tumor cell dissemination to regional lymph nodes and correlates with distant metastases. Lymphangiogenesis has thus emerged as a suitable therapeutic target to block metastases, but no anti-lymphangiogenic compounds have been approved for clinical use to date. Therefore, new or improved therapies blocking lymphatic metastases are urgently required.
Methods
We established murine breast tumors to assess the effect of AD0157 on tumor growth, lymphangiogenesis, and lymphatic dissemination. Then, a battery of in vivo (mouse corneal neovascularization and ear sponges), ex vivo (mouse lymphatic rings and rat mesentery explants), and in vitro (proliferation, tubulogenesis, wound-healing, Boyden chambers, and spheroids) assays was used to give insight into the lymphangiogenic steps affected by AD0157. Finally, we investigated the molecular pathways controlled by this drug.
Results
AD0157 was found to inhibit the growth of human breast cancer xenografts in mice, to strongly reduce tumor-associated lymphangiogenesis and to block metastatic dissemination to both lymph nodes and distant organs. The high anti-lymphangiogenic potency of AD0157 was further supported by its inhibitory activity at low micromolar range in two in vivo pathological models and in two ex vivo assays. In addition, AD0157 inhibited lymphatic endothelial cell proliferation, migration and invasion, cellular sprouting, and tube formation. Mechanistically, this compound induced apoptosis in lymphatic endothelial cells and decreased VEGFR-3/-2, ERK1/2, and Akt phosphorylations.
Conclusions
These findings demonstrate the suitability of AD0157 to suppress tumor-associated lymphangiogenesis. Beyond discovering a new potent anti-lymphangiogenic drug that is worth considering in future clinical settings, our study supports the interest of designing anti-lymphangiogenic therapies to avoid distant metastatic processes.