24.04.2019 | Ausgabe 4/2019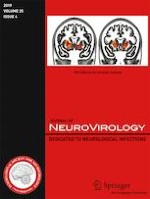 Tat expression led to increased histone 3 tri-methylation at lysine 27 and contributed to HIV latency in astrocytes through regulation of MeCP2 and Ezh2 expression
Zeitschrift:
Autoren:

Ying Liu, Yinghua Niu, Lu Li, Khalid A. Timani, Victor L. He, Chris Sanburns, Jiafeng Xie, Johnny J. He
Wichtige Hinweise
Publisher's note
Springer Nature remains neutral with regard to jurisdictional claims in published maps and institutional affiliations.
Abstract
Astrocytes are susceptible to HIV infection and potential latent HIV reservoirs. Tat is one of three abundantly expressed HIV early genes in HIV-infected astrocytes and has been shown to be a major pathogenic factor for HIV/neuroAIDS. In this study, we sought to determine if and how Tat expression would affect HIV infection and latency in astrocytes. Using the glycoprotein from vesicular stomatitis virus-pseudotyped red-green HIV (RGH) reporter viruses, we showed that HIV infection was capable of establishing HIV latency in astrocytes. We also found that Tat expression decreased the generation of latent HIV-infected cells. Activation of latent HIV-infected astrocytes showed that treatment of GSK126, a selective inhibitor of methyltransferase enhancer of zeste homolog 2 (Ezh2) that is specifically responsible for tri-methylation of histone 3 lysine 27 (H3K27me3), led to activation of significantly more latent HIV-infected Tat-expressing astrocytes. Molecular analysis showed that H3K27me3, Ezh2, MeCP2, and Tat all exhibited a similar bimodal expression kinetics in the course of HIV infection and latency in astrocytes, although H3K27me3, Ezh2, and MeCP2 were expressed higher in Tat-expressing astrocytes and their expression were peaked immediately preceding Tat expression. Subsequent studies showed that Tat expression alone was sufficient to induce H3K27me3 expression, likely through its regulation of Ezh2 and MeCP2 expression. Taken together, these results showed for the first time that Tat expression induced H3K27me3 expression and contributed to HIV latency in astrocytes and suggest a new role and novel mechanism for Tat in HIV latency.