16.03.2016 | Original Article | Ausgabe 1/2017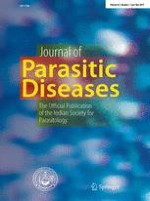 Taxonomic tools for the identification of
Allo

g

enarchopsis

bareilliensis

n. sp. (Digenea: Hemiuroidea: Derogenidae) from

Channa

striata

of Rohilkhand, India based on light and scanning electron microscopic studies
Zeitschrift:
Autoren:

Neelima Gupta, Dileep K. Gupta, Misako Urabe
Abstract
The stomach of the freshwater snakehead murrel,
Channa
striata
(n = 250) collected from fresh water habitats of Bareilly, Uttar Pradesh, India revealed
Allogenarchopsis
, a trematode parasite (Plagiorchiida: Derogenidae). An illustrated account of light (Olympus BX-53 with Cellsens software imaging system) and scanning electron microscopy (SEM) (Neo JCM-6000) of
Allogenarchopsis
bareilliensis
n. sp. (prevalence 37 %, intensity 1–4 par/host) is provided. Light microscopy based studies warranting creation of a new species are the robust shape of the body with broad mid-body, blunt anterior and tapering posterior end, large ventral sucker, ratio of oral sucker: ventral sucker 1:3.5, pharynx broader than long, egg size small with relatively short egg filament, excretory vesicle U-shaped bifurcating at posterior end and terminating above intestinal shoulders. Key characteristics of the tegumental microtopography by SEM are (1) an aspinous tegument with a variety of papillae of different shapes (button-like, dome-shaped) distributed randomly on the dorsal and ventral surface (2) oral sucker and oral cavity muscular with fringed margins and morphologically different oral papillae (3) lip of ventral sucker papillated including two unequally spaced rows of papillae with sensory receptacles interspersed in between, (4) unique differentially texturized cytoplasmic processes on the ventral sucker and (5) body folds grooved, gradually becoming narrower towards posterior end. This is the first record and study on
Allogenarchopsis
from
Channa
of Rohilkhand, India using electron optics. We recommend that the newly recognized morphological features as revealed by light microscopy and SEM be utilized as taxonomic tools in future for the identification of the species.