01.12.2015 | Study protocol | Ausgabe 1/2015 Open Access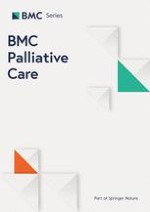 Te Pākeketanga: living and dying in advanced age - a study protocol
Zeitschrift:
Autoren:

Merryn Gott, Tess Moeke-Maxwell, Lisa Williams, Stella Black, Gabriella Trussardi, Janine Wiles, Rangimarie Mules, Anna Rolleston, Ngaire Kerse
Wichtige Hinweise
Competing interests
The authors declare that they have no competing interests.
Authors' contributions
MG is Principal Investigator for the study. She designed the study and will oversee all aspects of the study. TMM will manage and undertake data collection, and contribute to analysis and write up. She will also oversee all research processes relating to Māori participants. LW will undertake data collection, analysis and write up. SB will undertake data collection, analysis and write up, and provide additional advice around working with Māori participants. GT will provide administrative support and contribute to analysis and write up. JW will lead analysis and contribute to write up. RM will support data collection and contribute to write up. AR will provide additional advice relating to research with Māori and contribute to write up. NK is the Principal Investigator for the LiLACS NZ study and will contribute advice to study design and dissemination. MG drafted the manuscript; all other authors revised the text. All authors have given final approval for the paper.
Abstract
Background
The number of people dying in advanced old age is increasing rapidly and building the evidence base regarding end - of - life care for older people has been identified as an international policy priority. The unique opportunity to link longitudinal studies of ageing with studies exploring the end of life circumstances of older people remains under-exploited internationally. Very little is known about the specific circumstances, cultural needs and care preferences of indigenous older people, including Māori, at end - of - life and the needs of their whānau/ extended family carers.
Methods
We will use rigorous qualitative methods to conduct post-bereavement interviews with bereaved whānau and family of 50–60 people who died >80 years; approximately half of participants will be Maori. The older decedents were participants in the first longitudinal study of older people involving a specific indigenous cohort internationally:
Te Puāwaitanga O Ngā Tapuwae Kia Ora Tonu, Life and Living in Advanced Age: a Cohort Study in New Zealand
(LiLACS NZ). Prior to death, they completed a questionnaire regarding their end-of-life preferences and nominated a family or whānau member to participate in this separate study exploring end-of-life circumstances of those in advanced age.
Discussion
Recommendations to improve care will be formulated in collaboration with participants and their local hapū (sub-tribe). Ultimately this study has the potential to inform better outcomes for the growing numbers of people dying in advanced old age both in New Zealand and internationally, as well as their whānau and family caregivers. It also highlights the ability to generate an in-depth understanding of end-of-life circumstances by appending studies of palliative and end-of-life care onto existing longitudinal studies.