01.12.2019 | Review | Ausgabe 1/2019 Open Access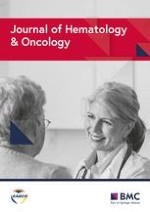 Technologies for circulating tumor cell separation from whole blood
Zeitschrift:
Autoren:

Petra Bankó, Sun Young Lee, Viola Nagygyörgy, Miklós Zrínyi, Chang Hoon Chae, Dong Hyu Cho, András Telekes
Wichtige Hinweise
Petra Bankó, Sun Young Lee and Viola Nagygyörgy contributed equally to this work.
Abbreviations
CAL27
Tongue squamous carcinoma
CRPC
Castrate-resistant prostate cancer
DBCO-Ab
Dibenzocyclooctyne group-modified antibody
EpCAM
Epithelial surface tumor marker
EMT
Epithelial-to-mesenchymal transition
EGFR
Epidermal growth factor receptor
FADU
Pharynx squamous carcinoma
FAST
Fluid-assisted separation technology
FMSA
Flexible micro spring array
HepG2, HuH7
Hepatocellular adenocarcinomas
HER2
Human epidermal growth factor receptor 2
HT-29
Human colon adenocarcinoma
HTMSU
High-throughput micro sampling unit
LMNCs
Leukocyte membrane fragments resulting in a magnetosome
MCF-7
Michigan Cancer Foundation-7
MACS
Magnetic cell separation system
NGS
Next-generation sequencing
PIK3CA
Phosphatidylinositol 3-kinase catalytic
PSMA
Prostate-specific membrane antigen
tFMSA
Tandem flexible micro spring array
Background
Currently, cancer-related illnesses are one of the leading health issues worldwide, causing approximately eight million deaths each year [
1
], and it is predicted that this number will rapidly increase in the future [
2
]. Therefore, research on cancer treatment and early diagnostic techniques is vitally important. Innovative modern technologies are capable of performing previously unachievable tasks. Due to these developments, the main diagnostic and treatment methods for patients with cancer are gradually shifting from conventional standards to personalized techniques [
3
–
6
]. Moreover, current diagnostic technology has led to the rapid development of precision medicine and molecular diagnostics [
7
,
8
]. Regulated cell division is a physiological process that occurs in all tissues under many different circumstances and microenvironments. Under normal conditions, both cell division and cell death processes are maintained by strictly controlled systems to ensure the integrity of each organ and tissue through a balance between proliferation and programmed apoptosis. However, uncontrolled cell division can lead to the development of malignant tumors. During the process of carcinogenesis, normal cells are typically transformed into cancer cells in a step-by-step manner, and this process interferes not only with normal cell proliferation but also with the normal state of the cell.
While most DNA mutations are not associated with cancer, certain DNA mutations can lead to the development of cancer. DNA mutations are one of the causative factors in the mechanism of cancer development [
9
,
10
]. The biochemical characteristics of the surface of malignant cancer cells are different from those of normal cells. Based on various changes, such as the generation of new surface antigens, proteoglycans, glycolipids, and mucus, modified cancer cells can be distinguished from normal cells. At the cellular level, these alterations in cancer cells compared to normal cells are mainly due to genetic modification and gene expression [
11
,
12
]. When normal cells become cancer cells, they extensively change their microenvironments. For example, cancer cells can initiate angiogenesis to obtain a sufficient blood supply for cell growth and metastasis [
13
,
14
]. However, most vascular circulating cancer cells are removed by immune cells, NK cells, and vascular endothelium or suffer impacts in small vessels; thus, only a small fraction of circulating tumor cells (CTCs) can cause metastasis [
15
–
18
].
Obtaining cancer cells that are in circulation is very important for the early diagnosis and prognosis of patients with cancer. In fact, CTCs are separated from primary tumor cells and circulate throughout the body in the vascular system. CTCs play an important role in metastasis formation [
19
–
22
]. It is also expected that the detection and analysis of CTCs obtained from the blood could contribute to the diagnosis and treatment of cancer. Recently, a noninvasive diagnostic method, which is named a liquid biopsy, of CTCs has emerged as a very promising new technique for early cancer diagnosis [
23
,
24
]. Clinically, compared to conventional biopsies, this method is an innovative and significantly less invasive technique for obtaining tumor cell samples, and it is expected to be well suited for early cancer diagnosis and for therapeutic decision making [
25
]. Liquid biopsy techniques can provide real-time information regarding patient staging (metastatic vs. nonmetastatic) and the molecular profile of the tumor. Moreover, liquid biopsies can be repeated with the desired frequency for close monitoring of progress and treatment [
26
]. Currently, CTC technology is being commercialized on several technological platforms. However, the results of early CTC technical equipment are not standardized; therefore, the obtained data may vary using different equipment. Standardization seems quite difficult due to different devices using various techniques for CTC detection, which causes physicians to be uncertain of the value of this new technology. In the future, standardization of CTC-based technologies will be necessary when increasing amounts of CTC-based products are commonly used in the clinic [
27
,
28
].
In this review, we focus on CTC technologies using whole blood samples without pretreatment since we predict that this approach will be used more commonly for clinical testing in the future. The methodological advantages of this approach make it suitable for clinical use. The applications and significance of CTC technologies in cancer detection and treatment monitoring are discussed along with their documented performance in recent immunoaffinity, size-based, and combined methods (developed to date) with possible future research studies. We also provide detailed information on the latest CTC-based technologies along with their clinical use. This article may be a helpful guide for cancer research scientists and oncologists for distinguishing between the many CTC separation techniques. A better understanding of CTC-based technologies and expected future developments will hopefully improve the treatment and diagnosis of patients with cancer.
The importance of CTC separation technologies using whole blood samples
In recent years, several techniques have been used and applied for CTC detection, enrichment, and counting. These techniques are based on different methods and target distinctive physical (size, density, etc.) or biological (tumor markers) characteristics of extremely rare CTCs that are found in the blood of patients with cancer.
Considering how different methods have evolved, there are several approaches that could serve as a basis for the grouping and evaluation of existing devices, such as the distinguishing method of the cells, enrichment mode, sample size, purity, cell viability, and sample treatment.
The common description differentiates between immunoaffinity-based and size-based methods, with several subgroups, such as immunomagnetic or microfluidic, for each group. New devices using these techniques are constantly being developed with increased performance.
The abovementioned CTC methods are expected to radically change cancer detection and treatment by early diagnosis, metastasis detection, and precision medicine methods. Among currently existing methods, we have chosen to describe devices that use whole blood samples and can thus be implemented more easily in clinical practice.
Technologies for CTC enrichment from whole blood samples
To support an easier comparison of the following methods, we showed the most important properties of each method (based on availability) in Tables
1
and
2
. All the following methods are included in Tables
1
and
2
and are grouped in the same manner as they are grouped in part 3 and in Figs.
1
and
2
.
×
×
Immunoaffinity
Immunoaffinity-based CTC techniques are among the first methods developed for capturing CTCs [
78
], and these methods use specific antigens that are expressed on the surface of CTCs that are not expressed on other cells. For the separation of CTCs from other blood cells, specific antibodies are used to target surface antigens. When tumor cells are captured, the technique is classified as positive enrichment; however, negative enrichment, where antigens that are not expressed on CTCs but are expressed on other blood cells are marked, can also be used, as shown in Fig.
2
. Antibodies that are used to capture tumor cells are typically bound to a surface in the device, resulting in difficulties in retrieving captured cells after enrichment or recovering cells from magnetic particles (immunomagnetic method). For negative enrichment, the CD45 antigen is generally targeted to capture normal cells that are found in the blood proximal to CTCs. Negative enrichment methods typically result in lower purity than positive enrichment methods; however, the advantage of negative enrichment methods is that label-free CTCs can be obtained independent of their specific antigen expression [
79
–
81
]. Generally, for positive enrichment methods, one type of antigen, the epithelial surface tumor marker (EpCAM), is targeted and typically results in a high-purity separation depending on the antigen. With this method, only CTCs originating in epithelial tumor (breast, colon, prostate, and lung) scans are captured [
82
], but in recent studies, nonmalignant epithelial cells with the same antigen characteristics have been found in patients with benign colon [
82
], pancreatic [
83
], and breast [
84
,
85
] diseases. Nonmalignant tumor cells that have similar characteristics as epithelial CTCs may result in false-positive results; thus, it is also important to consider epithelial-to-mesenchymal transition (EMT) and stem cell markers. To overcome this challenge and include more CTC subpopulations during separation, some recent alternative techniques utilizing surface markers such as epidermal growth factor receptor (EGFR), human epidermal growth factor receptor 2 (HER2), and mucin 1 (MUC1) have been developed. Multiple antibodies have also been used to target stem cell markers and mesenchymal markers [
86
].
Two of the main disadvantages and challenges of immunoaffinity-based CTC isolation methods described are (1) the heterogeneity of the CTCs, which can cause a loss of CTC subpopulations during enrichment and capture, and (2) CTCs bound to the surface of a device can cause difficulties in cell recovery.
Immunomagnetic positive enrichment
Microfluidic immunocapture positive enrichment
Microfluidic devices, which are created by microfabrication methods, contain structures that are comparable to the cell length scale. These devices allow for the precise control over sample flow, which is important since this affects cell-antibody contact and therefore the cell capture efficiency [
30
].
A microchip-based high-throughput micro sampling unit (HTMSU) is a microfluidic device that separates CTCs from the blood using surface-immobilized monoclonal antibodies to target unique membrane proteins. CTCs are retained on monoclonal antibody-coated walls of microchannels and can be released by trypsin, resulting in label-free viable cells. This device has been suggested to be simple and low-cost using microreplication technologies and can also be automated [
54
]. This device is particularly suitable for high-throughput processing by using several high-aspect-ratio microchannels configured in parallel and can process 1 ml of input in less than half of an hour. A unique attribute of this microfluidic device is the ability to detect CTCs by using an integrated Pt conductivity sensor to detect the unique electrical properties of CTCs because the overexpression of surface proteins results in a higher conductivity than that of erythrocytes or leukocytes. Breast cancer cell line-spiked blood experiments (using Michigan Cancer Foundation-7 (MCF-7) cells) have been carried out, and the highest recovery was 97%; however, no studies have been conducted using the blood of patients with cancer as clinical samples [
55
]. The detection efficiency was approximately 100% for spiked samples. Due to the quantitative ability of the detector, no staining or cytometry is needed, allowing for approximately 100% recovery of mostly viable cells [
54
]; therefore, the obtained CTCs are suitable for molecular profiling using microchip technology designed for high recoveries [
56
]. HTMSUs can be used not only for separating CTCs but also for recognizing other molecules to target other rare cells [
54
]. To date, HTMSUs have been reportedly fabricated with EpCAM and prostate-specific membrane antigen (PSMA)-specific aptamers but can also be used for single-stranded nucleic acid oligomers, LNCaP-like cells [
55
], and bacteria (such as
E. coli
O157:H7) [
54
].
A CTC-Chip is a microfluidic device consisting of an array of 78,000 chemically functionalized (with the anti-EpCAM antibody) microposts within a 970-mm
2
surface area [
66
]. Cell attachment to the antibody is promoted by the geometric arrangement of the microposts and fluid flow velocity. For optimal capture, a fluid flow rate of 1–2 ml/h is used for this device [
30
]. One of the disadvantages of microfluidic technologies is the low-throughput rate and therefore their inability to analyze large sample volumes. An approximately 60% recovery rate has been achieved with cancer cell line-spiked blood samples, and a similar result has been achieved with clinical samples from patients with cancer with approximately 98% cell viability [
57
]. A purity of 50% can be achieved with the CTC-Chip using the peripheral blood of patients with metastatic cancer (lung, prostate, breast, colon, and pancreatic cancers), and CTCs have been identified in 115 of 116 (99%) patient samples. Recent studies have demonstrated that EGFR mutational analysis can be carried out on DNA recovered from the chip [
93
].
A geometrically enhanced differential immunocapture (GEDI) chip is also a microfluidic device that uses geometrically enhanced differential immunocapture, which combines positive enrichment (using antibody-coated microposts) with hydrodynamic chromatography to minimize nonspecific leukocyte adhesion. The geometry of this device has been designed to maximize streamline distortion and thus bring CTCs in contact with immunocoated walls for capture [
58
]. With this solution, when cell-coated wall impact does not result in capture, the cells are displaced onto different streamlines depending on their size and collision inclination [
30
,
58
]. This property of the GEDI chip can increase the purity of cell capture by decreasing unwanted interaction opportunities of nontarget blood cells with immunocoated surfaces. In the device, 5000 microposts have been fabricated in either a circular or octagonal shape (80 mm diameter) in a 100 × 8 × 25 mm channel [
58
]. The GEDI chip has been used to capture CTCs from anti-prostate-specific membrane antigen (PSMA) cell lines spiked into the blood, where the capture efficiency was ~ 85% with a purity of 68%. The GEDI chip has also been tested on castrate-resistant prostate cancer (CRPC) patients, where a 1 ml blood sample was processed. This method is also used to perform downstream analyses, such as cDNA sequencing and immunostaining, on cells isolated with the GEDI chip [
30
,
58
].
Capture enhanced by nanomaterials
Interactions between CTCs and antibodies play an important role in cell capture. New techniques have enhanced the efficiency of immunoaffinity methods. It has been discovered that nanomaterials can enhance the capture efficiency and thus the similarities in size between a nanoparticle and cell membrane. Coating these nanoparticles with CTC-specific antibodies increases the surface area for CTC binding. Here, we describe approaches that utilize nanomaterials for enhanced CTC capture.
A graphene oxide (GO) chip is a microfluidic device that uses the unique properties of nanomaterials for more sensitive CTC capture. It utilizes functionalized graphene oxide nanosheets, which is a biocompatible nanomaterial with a high surface area that serves as a platform for sensitive CTC isolation, allows the imaging of captured CTCs, and enables culturing of the captured cells. The GO chip uses flower-shaped gold patterns (100 μm × 100 μm) as a base for the absorption of GO nanosheets. GO sheets are chemically functionalized with EpCAM antibodies and result in a high surface-to-volume ratio for capturing CTCs in a simple chamber-like structure without the need for three-dimensional structures, which make culturing and functional characterization difficult. The device dimensions are 24.5 mm × 60 mm × 3 mm. For spiking experiments, human breast cancer cell lines (high EpCAM-expressing MCF-7 cells and non-EpCAM-expressing Hs-578Tcells) and a low EpCAM-expressing human prostate cancer cell line (PC-3) were used in a buffer. The capture yield for EpCAM-expressing cells was over 80% for both cases, whereas for the non-EpCAM-expressing cells, the capture yield only reached 10%. The recovery rates for EpCAM-expressing cells were over 65% for all spiked samples. This method can be used for the isolation of CTCs from blood samples of patients with pancreatic, breast, and lung cancer [
87
]. Although the GO chip can be used to successfully isolate CTCs, it shares the following common problem with many immunoaffinity-based methods: the difficulty of releasing viable cells from the capturing surface. To overcome this problem, further improvement of the GO chip has been carried out using a thermoresponsive polymer, which allows for gentle CTC release, maximizing cell viability [
60
]. Thermoresponsive polymers belong to the class of stimuli-responsive polymers; thus, temperature changes cause conformational changes in the polymer [
61
]. The bottom substrate of the tunable thermal-sensitive polymer-GO chip is coated with functionalized GO that is spread over a matrix of thermoresponsive polymers. A higher capture efficiency (84.93–95.21%) has been achieved for EpCAM-expressing cancer cells, while for EpCAM-negative cells (Hs578T cells), the efficiency remained relatively low. The cell numbers showed a release of 95.21% and 91.56% in buffer and blood experiments, respectively, and the viability of released cells was 91.68%, as indicated by a live-dead assay. For blood tests, patients with different types of cancer were tested and resulted in 100% (
n
= 20; patients with metastatic breast cancer (
n
= 7), early-stage lung cancer (
n
= 4), and metastatic pancreatic cancer (
n
= 9)) [
87
]; 80% (10 patients with metastatic breast cancer); and 67% (three patients with pancreatic cancer) [
60
] capture efficiencies. This device has the advantages of easy fabrication, high purity, and the possibility of releasing cells to conduct various downstream analyses, such as genotyping, single-cell profiling, and standard clinical cytopathological analysis.
Another microfluidic device, which uses a silica nanoparticle (SiNP) platform to enhance the efficiency, is an EpCAM-coated patterned silicone nanopillar (SiNP) that increases the surface area for molecular interactions connected to a polydimethylsiloxane (PDMS) chip with a serpentine chaotic mixing channel that increases the frequency of possible interactions between substrates and CTCs in a sample [
62
]. The PDMS chip has serpentine chaotic mixing channels that contain chevron-shaped micropatterns embedded at the top of the channels, generating vertical flow that facilitates contact between CTCs and the substrate. Using EpCAM-positive cell cultures (MCF7, PC3, and T24 cells) in phosphate-buffered saline (PBS) or Dulbecco's-modified Eagle's medium (DMEM) at flow rates of 0.5, 1, and 2 mL/h, an efficiency of > 95% has been measured. The effect of capture rates has been investigated without the chevron-shaped micropatterns in the channels and SiNPs on the patterned substrate. In both cases, significantly lower cell capture was observed. A comparison study was conducted between the CellSearch system and the SiNP method by testing clinical blood samples (1 ml) of 26 patients with prostate cancer. In five cases, neither of the devices captured any CTCs, and in 17 out of 26 samples, the microfluidic SiNP platform captured significantly more CTCs than the CellSearch system [
62
].
The recently developed NP-
HB
CTC-Chip allows the release of cells with a chemical ligand-exchange reaction (gold nanoparticle (AuNP)-thiol exchange reaction) and has been engineered to release captured cells from the AuNPs, enabling subsequent CTC molecular analysis, such as next-generation RNA sequencing and ex vivo cell culture [
63
,
94
]. Compared to the
HB
CTC-Chip, the NP-
HB
CTC-Chip has shown an increased capture efficiency (ranging between 96.4 ± 2.2 and 80.0 ± 1%) and a decrease in nonspecific binding [
94
]. The surface can be coated with EpCAM or different surface markers, such as Her2 or EGFR, or a cocktail of the three surface markers, to achieve > 90% capture efficiency for low EpCAM-expressing cells (such as MDA-MB-231 cells). The efficiency remained high when low numbers of cells from different cell lines were analyzed. In clinical samples from four patients with metastatic breast cancer, CTC concentrations ranging from 6 to 12 CTCs/mL and a CTC cluster were discovered. The total processing time for 3 ml of whole blood is ~ 4 h. Cells released by glutathione (GSH) for thiol exchange remain highly viable and could undergo next-generation RNA sequencing. Unique breast cancer gene signatures have been found to provide useful clinical information [
63
].
Negative enrichment
Negative enrichment methods use an indirect approach by targeting antigens (e.g., CD45 and CD66b) that are on the surface of all blood cells except for CTCs. This method typically results in lower purity; however, the obtained CTCs are label-free and unbound, possibly containing all subpopulations because their antigens were not targeted [
70
,
79
–
81
].
A negative enrichment-based strategy using immunomagnetic technology developed by StemCell™ is called EasySep™, where an enrichment cocktail containing the CD45 antibody and magnetic beads with various sizes are used for separation [
64
]. This kit has been tested with different beads on whole blood samples spiked with cancer cell lines. For all magnet separation conditions and samples, the mean log depletion of CD45+ cells was 2.9 ± 0.4, the mean recovery of cancer cells was 42 ± 23%, and residual red blood cell (RBC) contamination was ∼ 9000 RBC/ml. This kit is an easy-to-use and quick (25 min) negative immunomagnetic enrichment technique resulting in label-free viable cells, which can be used for subsequent downstream analyses [
95
].
The advantage of immunoaffinity techniques is high specificity. Only cancer cells containing distinct antigens, which bind to the antibody used for capture, are enriched. Considering tumor heterogeneity, this high specificity may be a disadvantage since only one subpopulation is captured; thus, information regarding other subpopulations of cancer cells is not available. Using multiple antibodies might overcome this difficulty. Another problem is the release of captured CTCs from the surface of a device. Several approaches are discussed above; however, the data that is available for comparisons of these approaches is scarce. Currently, there is no optimal technique, but new approaches might emerge soon.
Size based
Physical methods, such as size-based enrichment methods, are independent of antigen expression on the surface of a cell. Therefore, these methods avoid the inaccuracy of heterogeneous antigen expression observed in CTCs [
96
]. These methods use physical and mechanical differences between CTCs and other cells found in blood samples. Among physical methods, size-based methods isolate CTCs depending on their increased size (9–19 μm). Sized-based techniques mainly use membrane microfilters, but other microfluidic-based techniques have also been reported [
30
,
72
]. The main advantage of size-based techniques is that they result in label-free, unmodified and viable cells using a fast and simple method with a high capture efficiency and good enrichment (10
4
against leukocytes) [
32
,
64
–
67
,
70
,
72
,
95
–
97
], which typically allows the obtained cells to be used for subsequent downstream methods, such as next-generation sequencing (NGS), to gain more information from one sample and improve the detailed analysis of a specific cancer type and cancer progression from patient to patient. Size-based techniques can have a much shorter enrichment time without biochemical modifications and are also expected to cost less because of the lack of expensive labels [
98
]. However, one of the largest challenges of size-based CTC isolation is possible interference with leukocytes (7–9 μm) [
99
], which have a size comparable to the lower range of CTC size (9–19 μm) [
100
]. Even smaller CTCs have been reported in several cancer cases, indicating that smaller CTCs are likely underrepresented in an enriched sample when using size-based methods [
47
]. Another challenge during validation is due to a size difference between CTCs and cancer cell lines, which are regularly used for preliminary validation. Compared to clinical samples from patients with cancer, using cells from cancer cell lines, which are significantly larger than CTCs, for validation results in irrelevant results. During the evaluation of filtration techniques, cell lines with a median size of 11–13 μm should be used to overcome this problem [
99
].
CTC membrane microfilters
Microfiltration methods have become available because of microfabrication methods that are used to construct thin, typically polycarbonate films containing controlled nano- to micron-sized pores (where pores are formed by surface bombardment) [
101
]. While track-etched filters are cost-effective and can be mass produced, unevenly distributed, low density or fused pores can reduce the CTC capture efficiency to 50–60% [
101
]. In the case of microfilters, purity is important not only because it allows detailed gene analysis but also because leukocytes can clog the filter, and when fluorescent imaging is used, it can increase the fluorescent background noise, which can cause false-positive results.
A flexible micro spring array (FMSA) is a high-throughput device with a rapid processing speed for the separation of CTCs based on size and deformity [
32
,
67
]. This device contains highly porous and flexible micro spring structures that are etched into a single layer of a parylene diaphragm, with an effective area of 0.5 cm
2
, as shown in Fig.
3
a. This device is suitable for processing larger volumes of blood without clogging within 10 min. For round-shaped pores, a pore diameter of 8 μm has been found to have the best performance in this device. The FMSA also contains a pressure regulation system to prevent mechanical damage to cells during filtration. In spiked blood samples (using MCF-7, MDA-MB 231, C8161, and WM35 cell lines), the capture efficiency is 90% with greater than 10
4
enrichment and greater than 80% viability. In clinical samples, the FMSA has been shown to detect CTCs in 16 out of 21 samples (76%). CTC microclusters can also be observed using this device. The captured cells have also been tested for vimentin, which is a marker for mesenchymal cells, and a substantial number of the cells (~ 86%) were positive, showing the advantage of size-based separation compared with immunoaffinity-based separation. CTCs caught on the filter maintain their viability and can be cultivated in the device or extracted by reverse flow. Genetic analysis, which can provide diagnostic and prognostic information can also be carried out on live cells [
67
]. Recently, a tandem flexible micro spring array (tFMSA) has been developed to specifically separate cells based on differences in sizes and deformability. The tFMSA was designed by integrating individual FMSA membranes in tandem and placing decreasing gap widths for the separation of up to four distinct subpopulations of viable cells [
32
,
65
].
×
In a recent microfluidic device, multiple arrays of crescent-shaped isolation traps (or wells) have been used with two 5-μm gaps between them where the wells are alternated left and right relative to the flow stream to prevent clogging and allow each well to hold a single CTC or more CTCs with smaller sizes while allowing other blood constituents to pass through the device [
68
]. During the retrieval of cells, positive pressure is applied to reverse the flow direction. The round-shaped bases of the wells can decrease in size to minimize obstructions during backflow and decrease mechanical insults to cells colliding with the device. Pressure regulators control the flow rate and can make real-time changes to the flow characteristics in the device. Three different cell lines, including human adenocarcinomas (MCF-7 and MDA-MB-231 cells), human colon adenocarcinoma (HT-29 cells), gastric adenocarcinomas (AGS and N87 cells), hepatocellular adenocarcinomas (HepG2 and HuH7 cells), tongue squamous carcinoma (CAL27 cells), and pharynx squamous carcinoma (FADU cells), have been used for the testing of the device. The results showed at least 80% efficiency and 80% purity for every sample at a 5-kPa pressure at a 0.7-ml/h flow rate. Compared to normal cultured cells, the recovery of cells was greater than 90% for every cell type with no effect on the proliferating capacity. To address the clinical need for larger volumes of blood, up to 5 ml of a sample can be processed in three devices at once at a pressure of 5 kPa in 2.5 h [
69
]. This device can be used with a broad range of cancer types without any functional modifications and has been tested on several cell lines from different origins. This method has been shown to be reproducible when CTC counts from patients with metastatic lung cancer (
n
= 5) were measured using different amounts of blood from the same samples (1, 2, and 3 ml of whole blood) [
102
].
A separable bilayer (SB) microfilter has been recently developed for viable size-based CTC capture [
33
]. The SB microfilter has a fundamentally different device structure and filtration principles than typical microfilter devices. In the SB microfilter, capture is achieved by a gap between the top and bottom porous membranes. The membranes consist of the biocompatible polymer parylene-C, which better preserves cell viability. The bottom layer contains 8-μm-diameter holes that are arranged hexagonally, and larger holes with a diameter of 40 μm compose the top parylene-C layer and are aligned to the centers of the corresponding hexagonal patterns on the bottom layer, as shown in Fig.
3
b. Unlike other single-layer CTC microfilters, the precise gap between the two layers and the pore alignment is designed to result in a drastic reduction in mechanical stress on CTCs to capture viable cells. An investigation of the operation of the SB microfilter showed that the majority of captured tumor cells are located along the edges of the large top pores; however, tumor cells could partially or completely wedge into the gap between the top and bottom parylene-C layers. After tumor cells are captured on the SB microfilters, it is possible to separate the top and bottom parylene-C membranes to access the captured cells. Using multiple cancer cell lines spiked in healthy donor blood for analysis, the SB microfilter showed a capture efficiency of 78–83%, cell viability of 71–74%, and tumor cell enrichment of 2–3 × 10
3
. This device has also been investigated in a metastatic mouse model, where SB microfilters successfully enriched viable mouse CTCs from 0.4–0.6 ml of whole mouse blood samples and established in vitro cultures for subsequent genetic and functional analyses [
33
]. The SB microfilter was further tested with 1 ml of clinical blood samples from patients with metastatic colorectal cancer. Notably, while the current SB microfilter device can process a whole tube of fresh blood (7.5 ml), the processing time is much longer, the blood has a higher risk of clogging the device, and the captured cells are too crowded to maintain a cancer cell morphology, which might prevent further analysis [
33
].
A lab-on-a-disc platform using fluid-assisted separation technology (FAST), which allows rapid size-based isolation of CTCs with relatively high purity from whole blood, has been recently developed and commercialized by Clinomics [
34
]. This device consists of a track-etched polycarbonate membrane with 8-μm pores that allows size-selective CTC isolation and membrane pores filled with a stably held liquid during the entire filtration process to reduce clogging and the separation time. During the entire filtration process with the FAST disc, the chamber under the membrane is filled with an aqueous phase; therefore, when the blood phase reaches the membrane, the blood phase flows down to the lower chamber uniformly and diffuses in the aqueous phase. The FAST disc uses the entire membrane area for filtration and greatly alleviates clogging issues. CTCs from whole blood can be isolated on the filter by spinning the disc, and the total filtration time required to isolate CTCs from 3 ml of whole blood is less than 1 min. For CTC counting, immunostaining can be conducted on the disc. This device has been tested on blood samples spiked with various cancer cell types, such as MCF-7, MDA-MB-231, and MDA-MB-436 breast cancer cell lines; HCC78 lung cancer cell lines; and the AGS gastric cell line. The capture efficiency was highest (> 95.9 ± 3.1%) at a spinning rate of 600 rpm, while the purity was 2.5-log depletion (mean 6420 white blood cells (WBCs)/ml; range 5748–7176 WBCs/mL) at the same spinning rate, and the recovery rate was 96.2 ± 2.6%. For clinical tests, 3 ml of whole blood was collected from patients with cancer and was used without dilution or RBC lysis. Using this method, the typical problem of blood samples from patients with cancer causing clogging is negligible when used in FAST mode operation. With the use of FAST disc, CTCs were detected in 83.3% (15 of 18) of breast cancer cases and 82.9% (63 of 76) of stomach cancer cases. Notably, all the patients with breast and stomach cancer in this study did not have distant metastases, while most of the studies discussed in this review used blood samples from patients with known metastatic cancer. These results clearly foreshadow the use of the device not only for cancer treatment but also for early diagnosis. A dramatic increase in the recovery rate can be achieved (from 54.0 ± 21.0% to 95.9 ± 3.1%) using the FAST disc compared to using a similar disk without FAST mode [
34
]. The FAST disc approach enables a standalone, efficient, user-friendly, robust, and cost-effective lab-on-a-disc system for point-of-care isolation of CTCs for CTC capture and further downstream molecular analysis, such as immunostaining, high-resolution imaging, and mutation analysis, which are particularly important for personalized therapy in cancer treatment processes [
34
].
Microfluidic sorting devices
Density based
Centrifugation, which uses the specific density of RBCs, leukocytes, and cancer cells, is one of the first reported methods for CTC isolation. To exploit these differences to separate these cell types, a silicone flotation technique has been used [
93
]. Currently, the use of buoyancy to separate different particles based on their relative densities is called density-based gradient centrifugation or isopycnic density gradient centrifugation [
30
].
Specifically, the OncoQuick
®
(GrenierBioOne, Frickenhausen, Germany) technique is designed for CTC isolation and has combined density-based gradient centrifugation and filtration by integrating a porous barrier into the system above the separation media, which captures CTCs while allowing erythrocytes and some leukocytes to pass through the device [
74
]. A study of OncoQuick revealed that following centrifugation, OncoQuick resulted in recovery rates of 87%. The increased depletion of mononuclear cells when using OncoQuick compared to another centrifugation technique has resulted in a simplified workflow for sample processing and immunocytochemical detection [
74
]. Another study revealed that OncoQuick can detect CTCs in 23% (14/61) of patients with metastatic cancer [
111
]. Several clinical studies have used OncoQuick for CTC enrichment [
112
,
113
].
The AccuCyte system is fundamentally based on the density of CTCs, which is within the range of the buffy coat. However, it is different from existing density-based methods that separate the buffy coat from RBCs and plasma because a unique separation tube containing a lozenge-shaped float and collector device is used, allowing virtually complete harvesting of the buffy coat into a small volume for application to a microscopic slide without cell lysis or wash steps, which is a potential source of CTC loss [
75
]. The float is a hollow plastic cylinder with longitudinal ribs that are raised 75 microns on the surface to prevent contact of the float body with the inside wall of the tube, thereby providing channels for fluid movement during centrifugation. Centrifugation separates blood within a tube into a bottom layer of packed RBCs (the hematocrit), a top layer of plasma, and a buffy coat layer of white blood cells and platelets. After density separation, a CyteFinder system (an automated scanning digital microscope and image analysis system) can be used for the classification of CTCs. The test results of cancer cell lines showed an average recovery rate of 90%, while 22 out of 27 (81%) CTCs were detected in the samples. Clinical tests of patients with advanced breast, prostate, and colorectal cancer have also been carried out. After CTC enrichment, genomic analyses can be performed on individual CTCs using this method [
75
].
One of the main advantages of physical methods, such as size-based techniques, is that they result in label-free, unmodified and viable cells with a simple method, typically resulting in cells that can be used for subsequent downstream methods. Physical separation techniques can also result in a much shorter enrichment time and are expected to cost less without biochemical modifications. However, one of the largest challenges of size-based CTC isolation techniques is the possible interference with other cells, such as leukocytes, that have a size comparable to the lower range of CTC size, while another challenge can occur during validation because of the size difference between CTCs and cancer cell lines, which are regularly used models.
Combined
Future directions: downstream analysis
Liquid biopsy is a minimally invasive technique that can be repeated nearly limitlessly, making the real-time monitoring of tumor progression a possibility by using CTC counting techniques [
115
]. Although CTC counting is a promising method for early cancer detection, development, progression, and treatment, combined with molecular profiling, it can lead to the detection of CTC subpopulations, cancer subtypes, and gene mutations causing cancer development, progression, and drug resistance. Therefore, it can justify the increase in precision medication [
116
]. With the use of precise and high-throughput DNA analysis techniques, such as NGS, it is currently possible to describe the whole genome and transcriptome of a single CTC [
117
,
118
]. The automation of NGS analysis of a single CTC also makes it possible to analyze whole CTC populations [
114
,
119
,
120
]. cfDNA and NGS are two potential tools for personalized medicine. cfDNA is mainly a prognostic and diagnostic biomarker, while NGS is used for mutational analysis of tumors. The total amount of cfDNA varies from patient to patient in the plasma or serum, but the average is higher in patients with cancer than in those without cancer. One of the main features of NGS is parallel sequencing, which is an advantage when several patient samples or genomic regions are processed or compared. Moreover, when multiple targets must be analyzed, NGS can reduce the cost. For cfDNA, plasma, serum, and other bodily fluids (e.g., urine, pleural fluid, and ascites) can be used; for NGS fine-needle aspirates, tumor excision or formalin-fixed paraffin-embedded (FFPE) tumor tissues can be used. Thus, it is typically easier to obtain samples for cfDNA than for NGS.
For further downstream analysis and molecular profiling, not all CTC isolation techniques can be used to improve the clinical outcome of patients with cancer. To combine CTC counting with DNA analysis, the CTC method that is used must result in viable cells after retrieval [
30
]. Since we have found it important to highlight the suggested future clinical use of CTC isolation and analysis methods, we would also mention CTC enrichment methods that use whole blood samples and are suitable for subsequent downstream analysis.
Conclusions
Various methodological approaches of new early diagnostic techniques for patients with cancer were reviewed. Various methods for the separation and detection of CTCs from whole blood by CTC technologies were described. As described, these CTC strategies have a great advantage in terms of noninvasive or minimally invasive diagnosis by liquid biopsy that improves the comfort of patients with cancer by avoiding unnecessary and invasive sampling of a tumor. Although clinical utilization remains rare for CTC techniques, only one method has been approved by the FDA to date. Various approaches for clinical use in cancer diagnosis and metastasis monitoring are available, especially since animal studies have shown improved survival rates in animal studies when CTCs were removed from circulating blood [
121
].
This review presented the latest technologies that enhance the clinical significance of CTC separation techniques and presented various methods, including immunoaffinity, size-based, and combined methods. Technologies have been introduced with positive and negative enrichment methods, some of which remain in the verification phase, but others have already been licensed [
34
,
50
,
51
,
53
,
64
,
70
,
71
,
74
,
75
]. Because of the variety of CTC separation technologies and products that are currently in development, it is difficult to evaluate and compare all CTC techniques to each other and propose one or few of these techniques as standard approaches in oncology. In addition, it is difficult to compare CTC techniques since they have been applied for different cancers and use different separation methods, and the results have been interpreted differently. However, several methods mentioned in this review can not only be used for CTC isolation but can also be adjusted for capturing different cells from samples, which can make these techniques relevant for application in other fields focusing on cell separation.
For future use and general acceptance by physicians, patients, and governments responsible for healthcare, it is necessary to obtain reliable clinical data for the standardization and reproducibility of CTC technologies, which is already in progress for most of the described methods. Based on our comparison of various methodological approaches, we suggest some directions for the development of future technologies for clinical needs.
The capture yields of positive immunoaffinity methods are only high for specific antigen-expressing cells that are used for capture and are low for other cancer cell types. Thus, immunoaffinity methods provide sufficient information regarding cancer cell heterogeneity. Therefore, immunoaffinity methods using several antigens concomitantly should be further developed. One of the advantages of negative enrichment is that the obtained cancer cells are label-free. Thus, this approach provides information on the heterogeneity of CTCs. In fact, there are no data available that compare the heterogeneity of CTCs and primary tumors. It is possible that CTCs, which represent metastatic cells, are more homogenous than primary tumors due to clonal selection. Since biological therapy aims to target metastatic cells, liquid biopsy data are more appropriate for therapeutic decision-making than samples of primary tumors. Moreover, it is sometimes technically impossible to obtain fine-needle aspiration (FNA) samples from metastatic lesions, but a liquid biopsy to obtain metastatic cells is always available.
For clinical application, the length of time, ranging from 10 min to 2.5 h per sample, that is needed to produce test results is an important factor since the range of these applications is quite broad. Automation can be a key step in achieving higher throughput.
According to the available data, it is likely that CTC techniques using whole blood will become a standard procedure. Minimal or no sample preparation is required; therefore, tumor cell damage is minimized, resulting in more reliable CTC analysis. The usefulness of this technique is dependent on clinical data, where a liquid biopsy obtained as a diagnostic tool or predictive marker for therapy and prognosis. Since the speed of technical advancement is quick, much less clinical data are available. However, experimental data predict breakthroughs of this technique regarding clinical practice.
Acknowledgements
This project was mainly supported by the Basic Research Program through the National Research Foundation of Korea (NRF) funded by the Ministry of Science, ICT & Future Planning (2017R1A2B4012353). This research was supported by the Research Base Construction Fund Support Program funded by Chonbuk National University in 2018.
Funding
The funding source had no role in the design of this study and in the collection and analysis of the data. The funding source will not have any role during the execution of the study, the analysis and interpretation of the data, or the decision to submit results.
Availability of data and materials
Not applicable
Ethics approval and consent to participate
Not applicable
Consent for publication
Not applicable
Competing interests
The authors declare that they have no competing interests.
Publisher's Note
Springer Nature remains neutral with regard to jurisdictional claims in published maps and institutional affiliations.
Open Access
This article is distributed under the terms of the Creative Commons Attribution 4.0 International License (
http://​creativecommons.​org/​licenses/​by/​4.​0/​
), which permits unrestricted use, distribution, and reproduction in any medium, provided you give appropriate credit to the original author(s) and the source, provide a link to the Creative Commons license, and indicate if changes were made. The Creative Commons Public Domain Dedication waiver (
http://​creativecommons.​org/​publicdomain/​zero/​1.​0/​
) applies to the data made available in this article, unless otherwise stated.