01.12.2014 | Original Paper | Ausgabe 6/2014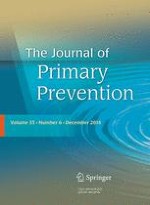 Teen Parties: Who Has Parties, What Predicts Whether There Is Alcohol and Who Supplies the Alcohol?
Zeitschrift:
Autoren:

Bettina Friese, Joel W. Grube
Abstract
This study explores which youth are more likely to have parties at home, what factors are associated with the presence of alcohol at parties, and who supplies the alcohol. We collected data in 2011 and 2012 through telephone interviews with 1,121 teens living in 50 mid-sized California cities. Overall, about a quarter of teens reported having had a party at their house in the past 12 months, of whom 39 % reported that there was alcohol at their last party. Multiple sources supplied alcohol for most parties. Seventy-two percent of those having a party stated that at least one of their parents knew about their last party, and 64 % reported that a parent was home at least part of the time. Seventy percent of youth who hosted a party with alcohol said that their parent(s) definitely knew that there was alcohol at the party, 24 % replied that their parent(s) probably knew, and only 5 % said that their parent(s) did not know that there was alcohol at the party. Logistic regression analyses indicated that youth with parents who host parties at home are themselves more likely to host parties at home. Having alcohol at a party was positively related to the age of the teen and the number of guests attending, and was negatively related to parents' awareness of the party. However, we found no relationship between whether a parent was at home at the time of the party and whether it included alcohol. These findings suggest that teens who have parties with alcohol at home have parents who know that there is alcohol at the party, even though only a small number of parents provided alcohol for the party.