18.07.2017 | Gamete Biology | Ausgabe 11/2017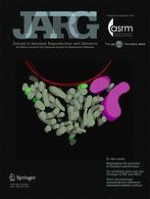 Temporal expression of cumulus cell marker genes during in vitro maturation and oocyte developmental competence
Zeitschrift:
Autoren:

Arindam Dhali, Pradeep Krishna Javvaji, Atul P. Kolte, Joseph Rabinson Francis, Sudhir C. Roy, Veerasamy Sejian
Abstract
Purpose
Cumulus cells (CC) play important roles in oocyte development and cumulus expressed genes can be used as markers for oocyte quality. This study aimed to investigate temporal changes in the expression of cumulus marker genes during oocyte maturation as possible biomarkers of embryo developmental competence in ovine.
Methods
Gene expression was assessed in the CC of the BCB+ (developmentally competent) and BCB- (developmentally poor) oocytes at 0, 12, and 24 h of in vitro maturation (IVM). Further, the association between the temporal cumulus gene expression and in vitro oocyte and embryo development was assessed.
Results
The maturation and blastocyst formation rates were found significantly greater for the BCB+ than the BCB- oocytes. At the 0 h of IVM, a significant upregulation in the expression of
PTGS2
,
STAR
,
SDC2
,
LHR
,
FGF2
,
BCL2
,
IL7RA
,
HSPA1A
, and
IFNT
was observed in the CC of the poor (BCB-) as compared to the competent (BCB+) oocytes. In contrast, it was observed that as maturation progressed, the cumulus expression of most of the favorable genes was reduced and was found significantly downregulated at the completion of IVM in the poor as compared to the competent oocytes.
Conclusions
The study revealed noticeable differences in the cumulus gene expression profile at different stages of IVM between ovine oocytes of differential developmental ability. The results indicated that the loss of cumulus gene expression along the maturation period in the poor oocytes was related to their intrinsic poor quality in the ovarian follicle.