01.12.2018 | Review | Ausgabe 1/2018 Open Access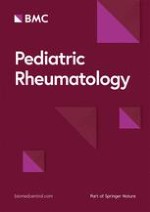 Temporomandibular joint arthritis in juvenile idiopathic arthritis, now what?
Zeitschrift:
Autoren:

Matthew L. Stoll, Chung H. Kau, Peter D. Waite, Randy Q. Cron
Abbreviations
CBCT
Cone beam computed tomography
FOA
Functional orthodontic appliance
GBCA
Gadolinium-based contrast agent
HBF
Heterotopic bone formation
IACI
Intraarticular corticosteroid injection
ICR
Internal condylar resorption
JIA
Juvenile idiopathic arthritis
TH
Triamcinolone hexacetonide
Background
Forty to ninety-six percent of children with juvenile idiopathic arthritis (JIA) develop arthritis of the temporomandibular joint (TMJ) [
1
–
6
]; all JIA categories are at risk [
7
]. There are several features of this joint that warrant particular attention, including its importance for everyday function, potential cosmetic implications of altered dentofacial growth, and the challenges in the evaluation and management of TMJ arthritis. Detailed discussion of the functional implications of TMJ arthritis are available [
8
,
9
], but briefly include pain with talking, difficulty eating, and obvious and potentially embarrassing alterations to the normal facial appearance. This review will focus on the diagnosis and management of TMJ arthritis in children with JIA.
Methods
This was not a systematic review. However, one of the authors (RQC) performed a PubMed search for all articles with keywords "temporomandibular" and "arthritis", covering the dates 2002 to the present. For the review of the studies on intraarticular therapy to the TMJ, a different author (MLS) performed a PubMed search for "temporomandibular joint", "arthritis", and "treatment" covering the same dates.
Conclusion
Once dubbed the "forgotten joint" [
120
], there has been an explosion of scholarship in recent years focusing on the diagnosis and management of TMJ arthritis. Yet, the more we learn about this joint, the less we really know about it. There is no doubt that TMJ arthritis is a frequent complication of JIA, and that if untreated, can have devastating effects on the form and function of the joint, jaw, and midface. While distinguishing between normal findings and mild arthritis can be challenging, significant TMJ arthritis resulting in joint damage can still occur, even early in the disease course [
14
]. Modern therapies have revolutionized the treatment of JIA as a whole [
121
], but the TMJ appears to have lagged behind [
6
]. Thus, IA therapy may remain the best option for some children. While we do not discount recent scholarship indicating the IACI may adversely impact the growth of the jaw [
51
], nor do we discount four decades of scholarship indicating that unopposed arthritis is harmful [
42
], and to date, corticosteroids are the only local therapy that have clearly shown to be of benefit in the management of TMJ arthritis. Future prospective research is indicated to evaluate alternative local approaches, as well as to understand the natural course among children with active inflammation, so that we can predict which children are likely to develop significant damage among those with active disease.
Ethics approval and consent to participate
Not applicable.
Competing interests
The authors declare that they have no competing interests.
Publisher's Note
Springer Nature remains neutral with regard to jurisdictional claims in published maps and institutional affiliations.
Open Access
This article is distributed under the terms of the Creative Commons Attribution 4.0 International License (
http://​creativecommons.​org/​licenses/​by/​4.​0/​
), which permits unrestricted use, distribution, and reproduction in any medium, provided you give appropriate credit to the original author(s) and the source, provide a link to the Creative Commons license, and indicate if changes were made. The Creative Commons Public Domain Dedication waiver (
http://​creativecommons.​org/​publicdomain/​zero/​1.​0/​
) applies to the data made available in this article, unless otherwise stated.