01.12.2017 | Research | Ausgabe 1/2017 Open Access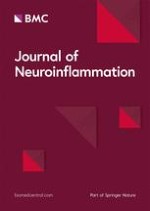 Tenuigenin protects dopaminergic neurons from inflammation via suppressing NLRP3 inflammasome activation in microglia
Zeitschrift:
Autoren:

Zheng Fan, Zhigang Liang, Hui Yang, Yuting Pan, Yan Zheng, Xiaomin Wang
Abstract
Background
Emerging evidence indicates that nod-like receptor family, pyrin domain-containing 3 (NLRP3) inflammasome-induced inflammation plays a crucial role in the pathogenesis of Parkinson's disease (PD). Thus, inhibition of NLRP3 inflammasome activation may offer a therapeutic benefit in the treatment of PD. Tenuigenin, a major active component of
Polygala tenuifolia
, has been shown to have potential anti-inflammatory activity, but the underlying mechanisms remain obscure.
Methods
In the present study, the 1-methyl-4-phenyl-1,2,3,6-tetrahydropyridine (MPTP)-induced mouse model of PD was established to explore the effect of tenuigenin on dopaminergic neurons in substantia nigra. We next activated NLRP3 inflammasome in both BV2 microglia cells and adult mice to investigate the mechanisms for the neuroprotective effect of tenuigenin.
Results
We demonstrated that treatment with tenuigenin increased striatal dopaminergic levels and improved motor impairment induced by MPTP. Also, tenuigenin significantly ameliorated the degeneration of dopaminergic neurons and inhibited NLRP3 inflammasome activation in substantia nigra of MPTP mouse model. We further found that tenuigenin reduced intracellular reactive oxygen species (ROS) production and suppressed NLRP3 inflammasome activation, subsequent caspase-1 cleavage, and interleukin-1β secretion in BV2 microglia cells. These data indicate that tenuigenin inhibits the activation of NLRP3 inflammasome via downregulating ROS. Correspondingly, in vivo data showed that tenuigenin attenuates microglia activation induced by lipopolysaccharide (LPS) in substantia nigra via suppressing NLRP3 inflammasome.
Conclusions
Our findings reveal that tenuigenin protects dopaminergic neurons from inflammation partly through inhibition of NLRP3 inflammasome activation in microglia, and suggest the promising clinical use of tenuigenin for PD therapy.