01.06.2006 | Research article | Ausgabe 3/2006 Open Access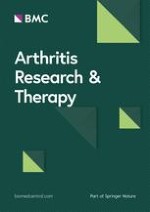 TGF β-induced cartilage repair is maintained but fibrosis is blocked in the presence of Smad7
Zeitschrift:
Autoren:

Esmeralda N Blaney Davidson, Elly L Vitters, Wim B van den Berg, Peter M van der Kraan
Wichtige Hinweise
Electronic supplementary material
The online version of this article (doi:
10.​1186/​ar1931
) contains supplementary material, which is available to authorized users.
Competing interests
The authors declare that they have no competing interests.
Authors' contributions
ENBD participated in the animal experiments and immunohistochemistry, carried out the histological measurements, analyzed the data, and drafted the manuscript. ELV participated in the animal experiments, carried out histological processing of the knee joints, participated in immunohistochemistry, and performed 35S-sulphate measurements. PMK conceived of the study, participated in the design and coordination, and helped draft the manuscript. WBB participated in study design and revision of the final manuscript. All authors read and approved the final manuscript.
Abstract
Cartilage damage in osteoarthritis (OA) is considered an imbalance between catabolic and anabolic factors, favoring the catabolic side. We assessed whether adenoviral overexpression of transforming growth factor-β (TGFβ) enhanced cartilage repair and whether TGFβ-induced fibrosis was blocked by local expression of the intracellular TGFβ inhibitor Smad7. We inflicted cartilage damage by injection of interleukin-1 (IL-1) into murine knee joints. After 2 days, we injected an adenovirus encoding TGFβ. On day 4, we measured proteoglycan (PG) synthesis and content. To examine whether we could block TGFβ-induced fibrosis and stimulate cartilage repair simultaneously, we injected Ad-TGFβ and Ad-Smad7. This was performed both after IL-1-induced damage and in a model of primary OA. In addition to PG in cartilage, synovial fibrosis was measured by determining the synovial width and the number of procollagen I-expressing cells. Adenoviral overexpression of TGFβ restored the IL-1-induced reduction in PG content and increased PG synthesis. TGFβ-induced an elevation in PG content in cartilage of the OA model. TGFβ-induced synovial fibrosis was strongly diminished by simultaneous synovial overexpression of Smad7 in the synovial lining. Of great interest, overexpression of Smad7 did not reduce the repair-stimulating effect of TGFβ on cartilage. Adenoviral overexpression of TGFβ stimulated repair of IL-1- and OA-damaged cartilage. TGFβ-induced synovial fibrosis was blocked by locally inhibiting TGFβ signaling in the synovial lining by simultaneously transfecting it with an adenovirus overexpressing Smad7.