28.11.2016 | Review | Ausgabe 1/2017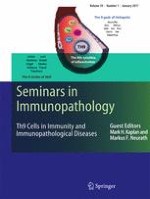 TH9 cells in skin disorders
Zeitschrift:
Autoren:

Rachael A. Clark, Christoph Schlapbach
Wichtige Hinweise
This article is a contribution to the special issue on Th9 Cells in Immunity and Immunopathological Diseases -- Guest Editors: Mark Kaplan and Markus Neurath.
Abstract
Interleukin 9 secreting TH9 cells have been proposed as the latest addition to the family of T helper cell subsets. While a growing body of evidence from animal models points to important roles for these cells in allergic inflammation of the lung, autoinflammation of the gastrointestinal tract, and tumor immunity, their role in skin immunity and skin immunopathology remains poorly defined. Interestingly, studies of T helper cells from healthy humans suggest that TH9 cells are predominantly skin-homing and skin-resident and that they are involved in protection against extracellular pathogens. Thus, TH9 cells have entered the stage as potential mediators of cutaneous pathology. However, under which conditions and by which mechanisms these cells contribute to skin immunity and disease still has to be investigated. Here, we review our current understanding of TH9 cells as skin-tropic T helper cells and their involvement in skin pathology. Further, we discuss open questions with regard to the intricate nature of interleukin 9 producing T helper cells.