09.12.2017 | Review | Ausgabe 2/2018 Open Access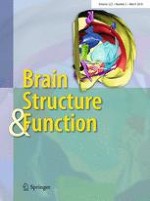 Thalamic interactions of cerebellum and basal ganglia
Zeitschrift:
Autoren:

Andreas Hintzen, Esther Annegret Pelzer, Marc Tittgemeyer
Wichtige Hinweise
In memoriam of Andreas Hintzen: sadly, Andreas' recently deceased before he could finish this work—we would have greatly appreciated to accomplish this article together with him, and feel this as a tremendous loss.
Abstract
Cerebellum and basal ganglia are reciprocally interconnected with the neocortex via oligosynaptic loops. The signal pathways of these loops predominantly converge in motor areas of the frontal cortex and are mainly segregated on subcortical level. Recent evidence, however, indicates subcortical interaction of these systems. We have reviewed literature that addresses the question whether, and to what extent, projections of main output nuclei of basal ganglia (reticular part of the substantia nigra, internal segment of the globus pallidus) and cerebellum (deep cerebellar nuclei) interact with each other in the thalamus. To this end, we compiled data from electrophysiological and anatomical studies in rats, cats, dogs, and non-human primates. Evidence suggests the existence of convergence of thalamic projections originating in basal ganglia and cerebellum, albeit sparse and restricted to certain regions. Four regions come into question to contain converging inputs: (1) lateral parts of medial dorsal nucleus (MD); (2) parts of anterior intralaminar nuclei and centromedian and parafascicular nuclei (CM/Pf); (3) ventromedial nucleus (VM); and (4) border regions of cerebellar and ganglia terminal territories in ventral anterior and ventral lateral nuclei (VA–VL). The amount of convergences was found to exhibit marked interspecies differences. To explain the rather sparse convergences of projection territories and to estimate their physiological relevance, we present two conceivable principles of anatomical organization: (1) a "core-and-shell" organization, in which a central core is exclusive to one projection system, while peripheral shell regions intermingle and occasionally converge with other projection systems and (2) convergences that are characteristic to distinct functional networks. The physiological relevance of these convergences is not yet clear. An oculomotor network proposed in this work is an interesting candidate to examine potential ganglia and cerebellar subcortical interactions.