01.12.2019 | Research | Ausgabe 1/2019 Open Access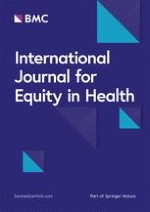 The access paradox: abortion law, policy and practice in Ethiopia, Tanzania and Zambia
Zeitschrift:
Autoren:

Astrid Blystad, Haldis Haukanes, Getnet Tadele, Marte E. S. Haaland, Richard Sambaiga, Joseph Mumba Zulu, Karen Marie Moland
Wichtige Hinweise
Publisher's Note
Springer Nature remains neutral with regard to jurisdictional claims in published maps and institutional affiliations.
Abstract
Introduction
Unsafe abortion is a major contributor to the continued high global maternal mortality and morbidity rates. Legal abortion frameworks and access to sexuality education and contraception have been pointed out as vital to reduce unsafe abortion rates. This paper explores the relationship between abortion law, policy and women's access to safe abortion services within the different legal and political contexts of Ethiopia, Tanzania and Zambia. The research is inspired by recent calls for contextualized policy research.
Methods
The research was based in Addis Ababa (Ethiopa), Dar es Salaam (Tanzania) and Lusaka (Zambia) and had a qualitative exploratory research design. The project involved studying the three countries' abortion laws and policies. It moreover targeted formal organizations as implementers of policy as well as stakeholders in support of, or in opposition to the existing abortion laws. Semi-structured interviews were carried out with study participants (79) differently situated vis-à-vis abortion, exploring their views on abortion-related legal- and policy frames and their perceived implications for access.
Results
The abortion laws have been classified as 'liberal' in Zambia, 'semi-liberal' in Ethiopia and 'restrictive' in Tanzania, but what we encountered in the three study contexts was a seeming paradoxical relationship between national abortion laws, abortion policy and women's actual access to safe abortion services. The study findings moreover reveal that the texts that make up the three national abortion laws are highly ambiguous. The on-paper liberal Zambian and semi-liberal Ethiopian laws in no way ensure access, while the strict Tanzanian law is hardly sufficient to prevent young women from seeking and obtaining abortion. In line with Walt and Gilson's call to move beyond a narrow focus on the content of policy, our study demonstrates that the connection between law, health policy and access to health services is complex and critically dependent on the socio-economic and political context of implementation.
Conclusions
Legal frameworks are vital instruments for securing the right to health, but broad contextualized studies rather than classifications of law along a liberal-restrictive continuum are demanded in order to enhance existing knowledge on access to safe abortion services in a given context.