01.12.2017 | Research article | Ausgabe 1/2017 Open Access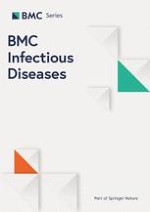 The aetiologies of central nervous system infections in hospitalised Cambodian children
Zeitschrift:
Autoren:

Paul Turner, Kuong Suy, Le Van Tan, Pora Sar, Thyl Miliya, Nguyen Thi Thu Hong, Vu Thi Ty Hang, Nguyen Thi Han Ny, Sona Soeng, Nicholas P. J. Day, H. Rogier van Doorn, Claudia Turner
Abstract
Background
Central nervous system (CNS) infections are an important cause of childhood morbidity and mortality. The aetiologies of these potentially vaccine-preventable infections have not been well established in Cambodia.
Methods
We did a one year prospective study of children hospitalised with suspected CNS infection at Angkor Hospital for Children, Siem Reap. Cerebrospinal fluid specimens (CSF) samples underwent culture, multiplex PCR and serological analysis to identify a range of bacterial and viral pathogens. Viral metagenomics was performed on a subset of pathogen negative specimens.
Results
Between 1st October 2014 and 30th September 2015, 284 analysable patients were enrolled. The median patient age was 2.6 years; 62.0% were aged <5 years. CSF white blood cell count was ≥10 cells/μL in 116/272 (42.6%) cases. CNS infection was microbiologically confirmed in 55 children (19.3%). Enteroviruses (21/55), Japanese encephalitis virus (17/55), and
Streptococcus pneumoniae
(7/55) accounted for 45 (81.8%) of all pathogens identified. Of the pathogens detected, 74.5% (41/55) were viruses and 23.6% (13/55) were bacteria. The majority of patients were treated with ceftriaxone empirically. The case fatality rate was 2.5%.
Conclusions
Enteroviruses, JEV and
S. pneumoniae
are the most frequently detected causes of CNS infection in hospitalised Cambodian children.