01.12.2015 | Research article | Ausgabe 1/2015 Open Access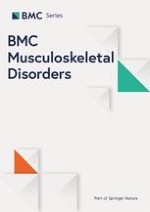 The Amsterdam wrist rules: the multicenter prospective derivation and external validation of a clinical decision rule for the use of radiography in acute wrist trauma
Zeitschrift:
Autoren:

Monique M. J. Walenkamp, Abdelali Bentohami, Annelie Slaar, M. Suzan H. Beerekamp, Mario Maas, L. Cara Jager, Nico L. Sosef, Romuald van Velde, Jan M. Ultee, Ewout W. Steyerberg, J. Carel Goslings, Niels W. L. Schep
Wichtige Hinweise
Electronic supplementary material
The online version of this article (doi:
10.​1186/​s12891-015-0829-2
) contains supplementary material, which is available to authorized users.
Competing interests
All authors have completed the ICMJE uniform disclosure form at
www.​icmje.​org/​coi_​disclosure.​pdf
and declare: no support from any organization for the submitted work; no financial relationships with any organizations that might have an interest in the submitted work in the previous three years; no other relationships or activities that could appear to have influenced the submitted work.
Authors' contributions
MMJW, NWLS and JCG co-wrote the manuscript. MMJW, NWLS, JCG, AB, AS, MSHB and LCJ formed the Amsterdam Wrist Rules Project committee, which designed and implemented the study, and reviewed the manuscript. MMJW and NWLS are the guarantors. MM, NLS, RV, JMU reviewed the manuscript and coordinated the study at the different study locations. EW and MMJW wrote the statistical analysis plan and EW reviewed the manuscript. All authors read and approved the final manuscript.
Authors' information
MMJW is a physician and clinical epidemiologist who is working on her PhD in trauma surgery; AB is a surgeon with a special interest in trauma care; AS is a radiology resident who is also doing a PhD in trauma surgery; MSHB is a surgical resident and working on her PhD in trauma surgery; MM is professor of musculoskeletal radiology; LCJ is an emergency physician; NLS is a trauma surgeon, as are RV and JMU. EWS is a clinical epidemiologist and professor of medical decision making. EWS has written extensively about deriving, validating and implementing clinical decision models. JCG is professor of trauma surgery and head of the Trauma Unit in a tertiary Academic Medical Centre and NWLS is a trauma surgeon and clinical epidemiologist.
Abstract
Background
Although only 39 % of patients with wrist trauma have sustained a fracture, the majority of patients is routinely referred for radiography. The purpose of this study was to derive and externally validate a clinical decision rule that selects patients with acute wrist trauma in the Emergency Department (ED) for radiography.
Methods
This multicenter prospective study consisted of three components: (1) derivation of a clinical prediction model for detecting wrist fractures in patients following wrist trauma; (2) external validation of this model; and (3) design of a clinical decision rule. The study was conducted in the EDs of five Dutch hospitals: one academic hospital (derivation cohort) and four regional hospitals (external validation cohort). We included all adult patients with acute wrist trauma. The main outcome was fracture of the wrist (distal radius, distal ulna or carpal bones) diagnosed on conventional X-rays.
Results
A total of 882 patients were analyzed; 487 in the derivation cohort and 395 in the validation cohort. We derived a clinical prediction model with eight variables: age; sex, swelling of the wrist; swelling of the anatomical snuffbox, visible deformation; distal radius tender to palpation; pain on radial deviation and painful axial compression of the thumb. The Area Under the Curve at external validation of this model was 0.81 (95 % CI: 0.77–0.85). The sensitivity and specificity of the Amsterdam Wrist Rules (AWR) in the external validation cohort were 98 % (95 % CI: 95–99 %) and 21 % (95 % CI: 15 %–28). The negative predictive value was 90 % (95 % CI: 81–99 %).
Conclusions
The Amsterdam Wrist Rules is a clinical prediction rule with a high sensitivity and negative predictive value for fractures of the wrist. Although external validation showed low specificity and 100 % sensitivity could not be achieved, the Amsterdam Wrist Rules can provide physicians in the Emergency Department with a useful screening tool to select patients with acute wrist trauma for radiography. The upcoming implementation study will further reveal the impact of the Amsterdam Wrist Rules on the anticipated reduction of X-rays requested, missed fractures, Emergency Department waiting times and health care costs.
Trial registration
This study was registered in the Dutch Trial Registry, reference number
NTR2544
on October 1
st
, 2010.