01.12.2017 | Research | Ausgabe 1/2017 Open Access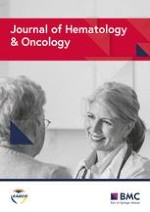 The antiproliferative ELF2 isoform, ELF2B, induces apoptosis in vitro and perturbs early lymphocytic development in vivo
Zeitschrift:
Autoren:

Fiona H. X. Guan, Charles G. Bailey, Cynthia Metierre, Patrick O'Young, Dadi Gao, Teh Liane Khoo, Jeff Holst, John E. J. Rasko
Wichtige Hinweise
Electronic supplementary material
The online version of this article (doi:
10.​1186/​s13045-017-0446-7
) contains supplementary material, which is available to authorized users.
Background
Unprecedented insights into the global interaction of transcription factors with DNA, often in a tissue-specific context, have become available consequent to next generation sequencing technologies. It is necessary to understand the complex interplay between DNA sequence, protein structure, and protein-protein interactions (PPIs) in determining gene regulatory pathways. The
Ets
(
E
-
t
wenty-
s
ix) family of transcription factors, characterised by the presence of an evolutionarily conserved 85 amino acid (aa)
Ets
DNA-binding domain, utilises a range of factors to govern target specificity.
Ets
proteins are classified into subfamilies based on sequence similarity in the
Ets
domain and by flanking domains, which can determine whether they act positively or negatively as transcriptional regulators. In humans, 27 members of the
Ets
family have been characterised, and many function as critical mediators of a wide variety of cellular processes, which include embryonic development, differentiation, growth, apoptosis, and oncogenic transformation [
1
–
3
].
The
Ets
domain forms a winged helix-turn-helix structure that binds the core
Ets
motif 5′-GGAA/T-3′ [
4
,
5
]. Outside of the core sequence, the
Ets
domain has high tolerance of variations in its target sequence [
6
]. A key question is how
Ets
proteins orchestrate DNA binding specificity to regulate specific biological processes. Analysis of individual
Ets
family member DNA binding sites has indicated that specific as well as redundant occupancy may occur at
Ets
sites throughout the genome [
7
]. Subtle differences in
Ets
sites, tissue-specific expression of
Ets
factors and their co-factors, and differential signalling responses may all contribute to their distinct functions, but makes identifying true targets both problematic and challenging [
8
,
9
].
Certain
Ets
proteins are known to play important roles in haemopoietic development via transcriptional regulation. Knockout mouse models have helped unravel the functional importance of
Ets
proteins in haemopoiesis. Loss of PU.1 (SPI1) has a profound effect on haemopoietic development by affecting myeloid and B cell development [
10
,
11
]. Other
Ets
gene knockout mouse models with defects in haemopoietic cells include
Ets1
[
12
,
13
],
SpiB
[
14
],
Fli1
[
15
], and
Etv6
[
16
]. Members of the ELF (E74-like factor) subfamily of Ets transcription factors including ELF1, ELF2, and ELF4 also play important roles in the development of lymphocytes and regulate numerous haemopoietic-specific genes. ELF1, which regulates genes involved in T cell development such as CD4 [
17
], CD3ζ [
18
], and IL-2 [
19
], also plays a restricted role in natural killer T cell development [
20
]. ELF4 (MEF; myeloid ELF-1-like factor) distinctly plays a critical role in the development and function of natural killer cells [
21
]. ELF2, also known as NERF (new Ets-related factor), is the least characterised member of this subfamily, despite its identification by two independent groups over 20 years ago [
22
,
23
]. ELF2 binds to the regulatory regions of genes involved in lymphocyte development and function including B and T cell co-receptor proteins, tyrosine kinases, and enhancer regions [
23
–
25
]; and in many instances, is shown to modulate their expression levels. A knockout mouse model for ELF2 has not been reported, so little is known about its functional role in haemopoietic development.
Two major isoforms of ELF2 arise from alternative promoter usage, ELF2A (NERF-2), and ELF2B (NERF-1) [
23
]. These major isoforms of ELF2 can exhibit opposite regulatory effects, ELF2A activates whilst ELF2B represses expression of its target genes [
24
]. Importantly, both isoforms interact with the master haemopoietic regulators RUNX1 and LMO2 [
22
,
24
]. Whilst both isoforms can bind the same
Ets
target sites in DNA and bind common co-factors, little is known about what functional differences these ELF2 isoforms may have.
In this report, we established reagents to distinguish between ELF2 isoforms and showed that ELF2 isoforms are differentially expressed. Our overexpression studies comparing between the ELF2 isoforms and the related ELF family members ELF1 and ELF4 in primary and transformed cell lines demonstrated a proapoptotic role for ELF2B which was modulated through its N-terminus. We then explored the role of ELF2 isoforms in haemopoietic development using an in vivo bone marrow reconstitution model in
Rag1
-/-
mice. Our results show a defined effect on B and T cells as well as granulocytes, consistent with a potential role for ELF2 in regulating haemopoietic development.
Methods
Vector construction
Full-length human ELF1 and ELF4 cDNAs were obtained from cDNA prepared from human thymus total RNA whilst ELF2A and ELF2B cDNAs were obtained from cDNA prepared from human testis total RNA (FirstChoice® Human Total RNA Survey Panel, Ambion). Mouse Elf2 isoforms were amplified from cDNA prepared from mouse testis RNA. Each full-length cDNA sequence was then cloned into the pcDNA3.1-HA expression vector containing a haemagglutinin (HA) tag on the N-terminus using
Not
I and
Xba
I sites. ELF2Δ, representing the common 513 aa region of ELF2 isoforms was amplified from ELF2A using primers with
NotI
-5' and
ClaI
-3' ends and was cloned into pcDNA3.1-HA. To construct lentiviral vectors, each HA-tagged ELF gene was subcloned into pCCLteteGFP-2A lentiviral vector [
26
] via
BmgBI
and
ClaI
sites. To construct retroviral vectors, each Elf2 isoform was subcloned into the pMIG retroviral vector upstream of the IRES sequence via
BamHI
and
PmeI
sites. Primer sequences used for cloning are available on request.
Cell culture
HeLa, HEK293T, MPRO, and GP + E86 ecotropic retrovirus packaging cells were cultured in DMEM (MPRO with 10% (v/v) conditioned DMEM medium from BHK-HM5 cells secreting GM-CSF). K562, Jurkat, A20 and CH12 cells were grown in RPM1 1640 medium (A20 and CH12 cells with the addition of 50 μM β-mercaptoethanol (Sigma-Aldrich). All basal media were supplemented with 10% FCS (v/v), penicillin (100 U/mL), and streptomycin (100 μg/mL). Human foreskin fibroblast (hFF) cells were grown in Ham's F-12K (Kaighn's) media supplemented with 50 μg/mL ascorbic acid (Sigma-Aldrich), 5 ng/mL basic fibroblast growth factor (PeproTech), 1 μg/mL hydrocortisone (Sigma-Aldrich), 5 μg/mL bovine insulin (Sigma-Aldrich), and 20% v/v FCS. All cell lines are routinely tested for
Mycoplasma
contamination by PCR screening of genomic DNA isolates.
Lentivirus and retrovirus production
Lentiviral particles were produced using a four plasmid tat-independent packaging system delivered into cells by calcium phosphate transfection [
27
]. At approximately 16 h post-transfection, the medium was replaced with fresh DMEM supplemented with 5 mM sodium butyrate. The media was collected after 24 h, and the virus-containing media was filtered through a 0.45-μM filter (MillexHV Millipore) to remove cell debris. Viral concentration was achieved by centrifugation at 20,000
g
for 2 h at 4 °C in a Beckman L8-70M Ultracentrifuge using an SW28 rotor (Beckman). Following centrifugation, the supernatant was removed, and the viral pellets were resuspended in 1/100th of the original volume in DMEM/10% FCS. Viral titres were determined by testing transduction levels on HeLa cells using serially diluted virus. Cells were collected 48 h post-transduction and analysis by flow cytometry using an LSR Fortessa (BD). Percentages of GFP-positive cells at each virus dilution were evaluated using FlowJo version 9.4 (Treestar).
Gene expression analysis
Total RNA was extracted from mouse tissues or immortalised cell lines using TRI Reagent (Astral Scientific). Each RNA sample was first treated with DNase I before generation of oligo dT cDNA by reverse transcription using SuperScript III (Invitrogen). After each RT reaction, the samples were treated with RNase H (New England BioLabs). Gene expression levels were quantified using the CFX96 Touch™ Real-Time PCR Detection System (BioRad) in 10 μL reactions, containing 25 ng of cDNA template, SYBR green-containing iQ Master Mix buffer (BioRad), 300 nM of forward and reverse primers (Additional file
1
: Table S1), and UltraPure™ DNase/RNase-Free distilled water (Invitrogen). Reaction conditions include: denaturation at 95 °C for 2 min, 30 amplification cycles at 95 °C for 10 s, 60 °C for 20 s, and 72 °C for 20 s, and melt curve analysis at 72 °C for 10 min.
Bioinformatic analysis
RNAseq data was trimmed by Trim Galore using the default Illumina Adapter Sequences. The trimmed reads were mapped to the Ensembl mouse transcriptome GRCm38.73 (mm10) using the default settings of TopHat 2.0.8. The FPKM was then calculated using mapped reads by Cufflinks v2.1.1 under default settings. Analysis of genomic regions surrounding the transcription start site of ELF2 isoforms for putative transcription factor binding sites was performed using MatInspector (Genomatix). Experimentally validated transcription factor binding sites were obtained from UCSC and Ensembl browsers by viewing publicly available ChIPseq datasets. Alignments to determine conservation in genomic DNA and protein sequences were performed using orthologous sequences obtained from Ensembl and aligned using the ClustalW algorithm within MacVector. Prediction of NLS sequences was performed with SeqNLS. Protein disorder analysis was performed using the PONDR server.
Chromatin immunoprecipitation (ChIP)
For each ChIP, 5 × 10
6
HEK293T cells transfected with pCCLteteGFP, pCCLteteGFP-2A-HAELF2A, and pCCLteteGFP-2A-HAELF2B were cross-linked with 1% (w/v) formaldehyde for 10 min and were quenched with 1 M glycine to a final concentration of 20 mM. Nuclear lysates were sonicated for 25 cycles, 30 s on, 30 s off using a Bioruptor sonicator (Diagenode). Antibodies for immunoprecipitating protein/DNA complexes include: acetylated H3K9/K14 (#9677, Cell Signaling); CTCF (07-729, Millipore); and HA (ab9110, Abcam). Protein G-conjugated agarose beads (Millipore) were used to immunoprecipitate antibody-bound chromatin complexes, and all subsequent steps were performed according to the manufacturers' instructions. After de-crosslinking, phenol/chloroform extraction, and ethanol precipitation, PCR was performed on genomic DNA targets using Phusion polymerase with GC buffer (Finnzyme). Primer sequences are in Additional file
1
: Table S1.
Antibody production and purification
Isoform-specific antibodies were raised to recognise the N-termini of ELF2A (aa 2-19) and ELF2B (aa 2-19). Each peptide was synthesised and conjugated to keyhole limpet hemocyanin (KLH) by Mimotopes (Victoria, Australia) and then sent to the Institute of Medical and Veterinary Science (IMVS, Adelaide, Australia) for a series of rabbit immunisations performed according to their standard operating procedures and approved institutional animal ethics protocols. The antiserum collected from the final bleed was used for subsequent affinity purification procedures. Antibodies were purified from crude rabbit serum using thiopropyl sepharose 6B (GE Healthcare) according to the manufacturers' instructions.
Western analysis
Cell lysates were prepared using a whole cell lysis buffer (20 mM Tris-Cl pH 7.6, 150 mM NaCl, 1% (v/v) Triton X-100, 0.5% (w/v) sodium deoxycholate, 0.1% (w/v) SDS). Nuclear and cytoplasmic fractionation was performed using the NE-PER Nuclear and Cytoplasmic Extraction Kit (Thermo Scientific), as per the manufacturers' instructions. Protein samples were denatured at 90 °C for 10 min with 100 mM DTT in NuPAGE® LDS sample buffer. Samples were separated using a 4–12% NuPAGE® Novex® Bis-Tris mini gel (Invitrogen) and transferred onto PVDF membrane (Millipore) using Trans-Blot® SD Semi-Dry Transfer Cell (BioRad). Each blot was then probed with antibodies specific to the protein of interest (Additional file
2
: Table S2).
FACS
To prepare cells for fluorescence-activated cell sorting (FACS), single cell suspensions of cultured cells were filtered to remove cellular debris and aggregates and then were resuspended in 400 μL of PBS containing 2% (v/v) FCS and 5 μg/mL PI. Transduced GFP-positive cells were purified (to > 95% purity) using a BD Influx into sterile 5 mL polystyrene FACS tubes.
Cell biology assays
For colony-forming assays, FACS-enriched cells were plated in triplicate at 1000 cells/10 cm plate and were incubated for 14 days with media replaced every 5 days. Cells were fixed with 5 mL of ice-cold methanol for 10 min. Plates were air-dried and stained for at least 2 h with Giemsa solution diluted 1:20 in distilled water. Colonies were scored on a digital colony counter (Labserv Technologies). For cellular proliferation assays, FACS-enriched cells were seeded in triplicate wells at 200–1000 cells/well in a 96-well plate in 100 μL of media. Proliferation was assessed every 2 days for a total of 10 days or daily for 4 days. At each time-point, proliferation was measured by MTT assay (Chemicon) according to the manufacturer's instructions and absorbance was measured by spectrophotometry at 572 nm using a POLARstar Omega microplate reader (BMG Labtech). For cell cycle analysis, BrdU (150 μg/mL diluted in medium) was added to approximately 1 × 10 6 cells and incubated for 4 h. Cells were rinsed twice in PBS, detached from plates using TrypLE™, fixed, and stained for BrdU incorporation using the APC BrdU Flow Kit (BD Bioscience), following the manufacturer's instructions. The cells were subsequently incubated in 7-AAD (BD Bioscience) and were analysed on a Canto-II flow cytometer (BD). For cell division analysis, approximately 3 × 10 5 cells were labelled with 10 μM of CFSE Cell Trace Violet (Invitrogen), according to the manufacturers' instructions. Following CFSE labelling, cells were resuspended in media and were divided equally into plates containing media with or without doxycycline (1 μg/mL). Cells were allowed to proliferate for 4 days and were subsequently analysed on a flow cytometer. All flow cytometry data was analysed using FlowJo software (Treestar).
Apoptosis assays
For assessment of Annexin V staining, approximately 1 × 10 6 cells were labelled with Annexin V reagent conjugated to Pacific Blue or APC fluorophores (BioLegend). Cells were incubated on ice for 1 h, rinsed, resuspended in 200 μL of binding buffer (10 mM HEPES pH 7.4, 140 mM NaCl, 25 mM CaCl 2) containing PI, and analysed on an LSR Fortessa (BD) flow cytometer. To measure caspase activation, cells were seeded at 1 × 10 4 cells/well in a 96-well plate and incubated in a 5% CO2-humidified 37 °C incubator for 24 h. Apoptosis was measured using the Caspase Glo 3/7 Assay (Promega) according to the manufacturers' instructions. The luminescent signal was measured using a POLARstar Omega microplate reader. The luminescent signals measured were normalised to untransduced HeLa control, set as 1.0, for each experiment to account for signal variation between experiments.
Immunofluorescence staining
HeLa cells were seeded (2 × 10
4
cells/well) in 8-well chamber culture slides (BD Biosciences) and incubated overnight. The cells were fixed in 4% (w/v) PFA, permeabilised in 0.2% (v/v) Triton X-100, and blocked with 20% (v/v) BlokHen (Aves Laboratories). Cells were then stained with antibodies at optimal dilutions (Additional file
2
: Table S2). The cells were stained with DAPI (1 μg/mL) before visualisation using a DM6000 microscope (Leica Microsystems).
Generation of retrogenic mice and haemopoietic cell analysis
Establishment of GP + E86 NIH3T3-based ecotropic packaging cell lines expressing pMIG retroviral vectors containing eGFP empty vector (control) or HA-tagged ELF2 isoforms was performed as described [
28
]. Transduction of mouse bone marrow and generation of retrogenic mice was performed as described [
28
]. For analysis of haemopoietic cell populations, single cell suspensions were stained with relevant antibodies diluted in FACS buffer (PBS + 2% (v/v) FCS) with or without 5 μg/mL propidium iodide (PI). Cells were stored on ice until flow cytometry analysis on an LSR Fortessa (BD). The antibody-fluorochrome conjugates and flow cytometry filter sets used to identify specific haemopoietic populations are described in Additional file
3
: Table S3.
ATRA-induced MPRO differentiation
MPRO cells (2.5 × 10 5 cells/mL) were treated with 10 μM ATRA. After 72 h treatment, the cells were stained with FITC-conjugated anti-Gr-1 (Ly6G/Ly6C) antibodies (BioLegend), and the cells enriched by FACS for different stages of differentiation based on Gr-1 staining. RNA was isolated from sorted cells for subsequent RT-qPCR analysis. Each FACS-enriched population was cytospun onto glass slides using the Shandon CytoSpin III Centrifuge (GMI), according to the manufacturer's instructions. May-Grunwald Giemsa staining was performed by the NATA-accredited Haematology Laboratory at Royal Prince Alfred Hospital (Sydney, Australia).
Results
Discussion
In this study, we have demonstrated that ELF2B reduces cell proliferation, colony-forming ability, cell cycle progression, and survival. This has an impact in vivo with ELF2 isoforms disrupting the tightly regulated development of B and T cells. The significant reduction in DN4 and DP T cell populations in the thymus and in the pre-B cell population in the bone marrow of mice overexpressing Elf2 is consistent with disruption of key developmental checkpoints. Developing lymphocytes produce specific B and T cell receptors through V(D)J gene rearrangement and recombination events, a process crucial in generating receptor diversity. A functional receptor will confer cell survival and proliferation signals that enable these lymphocytes to progress in their development, whilst failure to form a functional receptor will trigger apoptosis in the developing lymphocyte. ELF2 may therefore play an important role in regulating key effectors involved in V(D)J gene rearrangement for TCR and BCR assembly in early lymphocytic development.
Conclusions
Our study highlights the importance of specifying which ELF2 isoform is being examined in any future studies involving ELF2. Given the known opposing effects of ELF2A and ELF2B on target gene expression and our evidence of the putative dominant negative functions of ELF2B, we postulate that the interplay between ELF2 isoforms and other related Ets factors may be critical in regulating early lymphocytic development. Although our in vitro studies clearly distinguish between ELF2A and ELF2B function, the phenotypic changes observed in our ELF2
+
retrogenic mouse models were similar between isoforms. Direct competition of ELF2 isoforms with other
Ets
factors, due to redundancy in occupancy at lymphoid-specific
Ets
sites, may facilitate the perturbation of early lymphocytic development we observed. Further studies should clarify the similarities and differences in ELF2 isoform DNA occupancy and function in vitro and examine the organismal-wide role of ELF2 isoforms in co-ordinating transcription in vivo.
Acknowledgements
The authors acknowledge the High-Performance Computing (HPC) service at The University of Sydney for providing resources that have contributed to the research results reported within this paper. This work was supported in part by a University of Sydney HPC Grand Challenge Award. The authors wish to thank the Centenary Institute Advanced Cytometry Facility for FACS.
Funding
Financial support was provided by Tour de Cure (Scott Canner Memorial Research Fellowship) to C.G.B. and for research grants to C.G.B. and J.E.J.R; National Health and Medical Research Council grants (#507776 to J.E.J.R. and J.H and #1128748 to J.E.J.R); Cancer Council NSW project grants (RG11-12, RG14-09) to J.E.J.R. and C.G.B.; National Breast Cancer Foundation Fellowships (ECF-12-05) to J.H.; support grants from Cure The Future Foundation and an anonymous foundation.
Availability of data and materials
RNAseq data of mouse promyelocytes and granulocytes was obtained from our prior publication [
29
] and from publicly available GEO datasets of mouse B cell (GSE50775), T cell (GSE31555) ESC (GSE29413), and testis (GSE36025). Somatic mutations in cancer samples were obtained from The Cancer Genome Atlas (TCGA) and Catalogue of Somatic Mutations in Cancer (COSMIC) databases. All plasmid constructs are available on request.
Authors' contributions
FHXG, CGB, and JEJR conceived the study, analysed the data, and prepared the manuscript. CGB designed the vectors. FHXG and CM constructed the vectors and performed the transductions. FHXG and JH prepared the ecotropic packaging cells and performed the bone marrow transplants to generate retrogenic mice; and with TLK analysed the haemopoietic cells subsets. FHXG and PO'Y performed the cell biology assays. CM performed the ChIP, and DG performed the analysis of RNAseq data. All authors read and approved the final manuscript.
Competing interests
The authors declare that they have no competing interests.
Consent for publication
Not applicable
Ethics approval
Bone marrow reconstitution experiments in mice were performed in accordance with an approved institutional animal ethics protocols SSWAHS K75-9-2009-3-5125 and K75-9-2012-3-5830.
Publisher's Note
Springer Nature remains neutral with regard to jurisdictional claims in published maps and institutional affiliations.
Open Access
This article is distributed under the terms of the Creative Commons Attribution 4.0 International License (
http://​creativecommons.​org/​licenses/​by/​4.​0/​
), which permits unrestricted use, distribution, and reproduction in any medium, provided you give appropriate credit to the original author(s) and the source, provide a link to the Creative Commons license, and indicate if changes were made. The Creative Commons Public Domain Dedication waiver (
http://​creativecommons.​org/​publicdomain/​zero/​1.​0/​
) applies to the data made available in this article, unless otherwise stated.