01.12.2018 | Research article | Ausgabe 1/2018 Open Access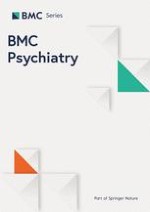 The association between electrodermal activity (EDA), depression and suicidal behaviour: A systematic review and narrative synthesis
Zeitschrift:
Autoren:

Marco Sarchiapone, Carla Gramaglia, Miriam Iosue, Vladimir Carli, Laura Mandelli, Alessandro Serretti, Debora Marangon, Patrizia Zeppegno
Abstract
Background
Electrodermal activity (EDA) and other peripheral autonomic electrical parameters have been used as indicators of emotional states, including depressive states and suicidal state. We aimed to review EDA research systematically, focusing on EDA's usefulness as a biomarker for depression and suicidal behaviour.
Methods
We searched MEDLINE, Scopus, Cochrane Library, and Web of Science databases, following PRISMA guidelines. The initial screening of articles was based on titles and abstracts; then the full text was reviewed. A preliminary synthesis of findings was developed using tables, thematic analysis and quality ratings.
Results
1287 articles were screened and 77 relevant studies were identified and included in the systematic review. The studies were fairly consistent in maintaining that hypoactive electrodermal response is an established feature of patients affected by depression. There is also preliminary evidence that monitoring EDA may help to differentiate the phases of mood disorders. A few studies provided evidence that EDA can be used to differentiate acutely suicidal subjects from depressed patients who are not severely suicidal. Although EDA has been shown to be a valid, sensitive marker of suicidal ideation, suicide attempts and violent suicidal behaviour, it also seems to be influenced to some extent by antidepressant treatment.
Conclusions
Most of the studies summarised in this review are quite outdated and employed a variety of designs and methods to evaluate EDA. This limits the generalisability of the results and makes it difficult to draw clear conclusions about the role of EDA in real-world settings. Electrodermal hypoactivity seems to be a reliable feature of depression and a valid marker of suicidal risk. Nevertheless, the potential utility of EDA in diagnosis, prevention, and treatment planning for depression and suicidal behaviour, should be thoroughly studied.