01.01.2012 | Original Article | Ausgabe 1/2012 Open Access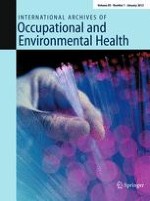 The association between symptoms and exposure is stronger in dropouts than in non-dropouts among employees in Norwegian smelters: a five-year follow-up study
Autoren:

Vidar Søyseth, Helle Laier Johnsen, Merete Drevvatne Bugge, Johny Kongerud
Abstract
Purpose
We have investigated the association between respiratory symptoms and dust exposure among employees in 18 Norwegian smelters using a longitudinal design.
Methods
All employees (
N
= 3,084) were examined annually for 5 years (12,996 health examinations). At each examination, the subjects reported if they had respiratory symptoms, coded as 1 (yes) or 0 (no), on a respiratory questionnaire. Symptom score was constructed as the sum of symptoms (0–5). Full-time workers in the production line were classified as line operators; subjects never exposed in the production line were regarded as non-exposed. The remaining individuals were classified as non-line operators. A job-exposure matrix regarding dust exposure was also available. Analyses of repeated measurements were performed using generalised linear mixed model with log-link (Poisson regression). Adjustments were made for overdispersion.
Results
The mean age at inclusion was 39.0 years, and 89% were men. The median dust exposure in tertiles 1–3 was 0.19, 1.76 and 3.47 mg/m
3
. The longitudinal analyses showed that the association between symptoms-score ratio (SSR) and job category was significantly stronger in dropouts compared with non-dropouts (
p
= 0.01). Among the dropouts, SSR was 1.61 (95% confidence interval: 1.27–2.05) and 1.39 (1.09–1.77) in line operators and non-line operators compared with non-exposed employees, respectively. The corresponding SSR for subjects who completed the study was 1.13 (1.01–1.27) and 1.12 (1.00–1.26), respectively. Similarly, among the dropouts, the SSR between the second and the first tertile was 1.28 (1.05–1.55) and 1.37 (1.13–1.66) between the third tertile and the first tertile.
Conclusions
Line operators had more respiratory symptoms than non-exposed employees. This effect was significantly stronger in dropouts than in those who continued their jobs, indicating that there is a selection of subjects without respiratory symptoms in this industry.