25.05.2019 | Original Article | Ausgabe 4/2019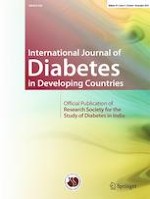 The association of diabetes risk score and body mass index with incidence of diabetes among urban and rural adult communities in Qingdao, China
Autoren:

Jianping Sun, Guorong Bao, Jing Cui, Nafeesa Yasmeen, Bilal Aslam, Hualei Xin, Li Shanshan, Peng Fu, Zulqarnain Baloch
Wichtige Hinweise
Publisher's note
Springer Nature remains neutral with regard to jurisdictional claims in published maps and institutional affiliations.
Abstract
Background
The Qingdao diabetes risk score (QDRS) is an accurate tool for identifying individuals who are at a high risk for diabetes. This study was designed to determine the association of the QDRS with the incidence of diabetes in the general population in urban and rural settings.
Methods
A stratified, random, cluster-sampling method was used to select representative individuals in 2006 and 2009, and the follow-up survey was conducted from 2012 to 2015. Of 5851 participants, 3248 were available in cohort study. The individuals without data of FPG, 2 h PG was excluded in follow-up survey. Finally, a total of 3033 participants were included. Waist circumference, age, and family history of diabetes were collected to determine the QDRS. Cox proportional hazards regression models were used to evaluate the association of QDRS and BMI with the incidence of diabetes. Further, we assessed the relative excess risk due to interaction (RERI), synergy index (S), and attributable proportion due to interaction (AP).
Results
Their age-standardized cumulative incidence of diabetes was 16.9% and 10.8% among the urban and rural populations, respectively. In both urban and rural settings, individuals with a QDRS ≥ 14 had a significantly higher risk for diabetes than the individuals with a QDRS < 14 (hazard ratio (HR): 2.37 vs. 1.49; 95% CI 1.35–4.15 vs. 1.09–2.04). Further, having a QDRS of ≥ 14 concurrently with being overweight/obese showed an additive effect on the risk for diabetes in urban settings (RERI = 1.59, S = 2.34, AP = 42.06%). In contrast, a negative interaction was noted in rural settings (RERI = 0.07, S = 0.89, AP = 4.55%).
Conclusions
Having a QDRS ≥ 14 demonstrated a strong positive association with the incidence of diabetes. An elevated QDRS combined with BMI showed value in predicting the incidence of diabetes among high-risk populations for diabetes in urban but not rural settings.