01.10.2010 | Research | Ausgabe 5/2010 Open Access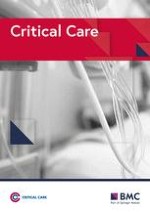 The association of endothelial cell signaling, severity of illness, and organ dysfunction in sepsis
Zeitschrift:
Autoren:

Nathan I Shapiro, Philipp Schuetz, Kiichiro Yano, Midori Sorasaki, Samir M Parikh, Alan E Jones, Stephen Trzeciak, Long Ngo, William C Aird
Wichtige Hinweise
Electronic supplementary material
The online version of this article (doi:
10.​1186/​cc9290
) contains supplementary material, which is available to authorized users.
Competing interests
This project was funded in part by an investigator initiated research grant from Eli Lilly. Dr. Shapiro has received research grants from Hutchinson Technologies, Eli Lilly, and Inverness Medical and has received speaker's honorarium from Inverness Medical. Dr. Schuetz receives speaker's honoraria from BRAHMS's Diagnostics and Biomerieux Inc. Dr. Trzeciak receives research support from Ikaria and serves as a consultant to Spectral Diagnostics, but does not receive any personal remuneration from any commercial interest.
Authors' contributions
NS and WA conceived of the project and oversaw all components of the project and manuscript preparation. MS and KY played a substantial role in data acquisition. PS, SP, AJ, ST and LN contributed substantially to data interpretation and analysis. All authors contributed to writing the manuscript and have given final approval of the version to be published.
Abstract
Introduction
Previous reports suggest that endothelial activation is an important process in sepsis pathogenesis. We investigated the association between biomarkers of endothelial cell activation and sepsis severity, organ dysfunction sequential organ failure assessment (SOFA) score, and death.
Methods
This is a prospective, observational study including adult patients (age 18 years or older) presenting with clinical suspicion of infection to the emergency department (ED) of an urban, academic medical center between February 2005 and November 2008. Blood was sampled during the ED visit and biomarkers of endothelial cell activation, namely soluble fms-like tyrosine kinase-1 (sFlt-1), plasminogen activator inhibitors -1 (PAI-1), sE-selectin, soluble intercellular adhesion molecule (sICAM-1), and soluble vascular cell adhesion molecule (sVCAM-1), were assayed. The association between biomarkers and the outcomes of sepsis severity, organ dysfunction, and in-hospital mortality were analyzed.
Results
A total of 221 patients were included: sepsis without organ dysfunction was present in 32%, severe sepsis without shock in 30%, septic shock in 32%, and 6% were non-infected control ED patients. There was a relationship between all target biomarkers (sFlt-1, PAI-1, sE-selectin, sICAM-1, and sVCAM-1) and sepsis severity,
P
< 0.05. We found a significant inter-correlation between all biomarkers, including the strongest correlations between sFlt-1 and sE-selectin (r = 0.55,
P
< 0.001), and between sFlt-1 and PAI-1 (0.56,
P
< 0.001). Among the endothelial cell activation biomarkers, sFlt-1 had the strongest association with SOFA score (r = 0.66,
P
< 0.001), the highest area under the receiver operator characteristic curve for severe sepsis of 0.82, and for mortality of 0.91.
Conclusions
Markers of endothelial cell activation are associated with sepsis severity, organ dysfunction and mortality. An improved understanding of endothelial response and associated biomarkers may lead to strategies to more accurately predict outcome and develop novel endothelium-directed therapies in sepsis.