13.12.2018 | PRECLINICAL STUDIES | Ausgabe 5/2019 Open Access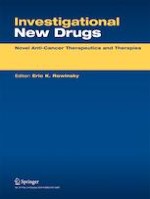 The availability of drug by liposomal drug delivery
Individual kinetics and tissue distribution of encapsulated and released drug in mice after administration of PEGylated liposomal prednisolone phosphate
Zeitschrift:
Autoren:

Evelien A. W. Smits, José A. Soetekouw, Ebel H. E. Pieters, Coen J. P. Smits, Nicolette de Wijs-Rot, Herman Vromans
Wichtige Hinweise
Electronic supplementary material
Summary
Lately, the usefulness of liposomal drug delivery systems has been debated. To better understand the underlying pharmacokinetics of the targeted drug delivery by liposomes, individual encapsulated and non-encapsulated drug concentrations in blood, tumor, liver, spleen and kidneys were quantified after i.v. administration of liposomal prednisolone phosphate in mice. Kinetic analysis shows that the tumor influx of encapsulated drug is not dominant compared to the uptake by the other tissues. Further, from a quantitative point of view, the availability of non-encapsulated drug in the tumor tissue after liposomal delivery is not pronounced as compared to the other tissues studied. However, drug release in the tumor seems more extended than in the other tissues and the non-encapsulated drug concentration decreases more slowly in the tumor than in the liver and spleen. The spleen shows a high affinity for the uptake of encapsulated drug as well as the release of drug from the liposomes. Subsequently, released drug in the spleen, and possibly also in other tissues, is probably quickly redistributed towards the blood and other tissues. This also impairs the drug delivery effect of the liposomes. In contrast to the released drug in the central circulation, liver and spleen, the released drug concentration in the tumor remains at a fairly constant level likely due to the extended release kinetics from the liposomes. These extended release characteristics in the tumor most probably contribute to the beneficial effect. Nevertheless, it should be noted that larger released drug concentrations are formed in healthy tissues.